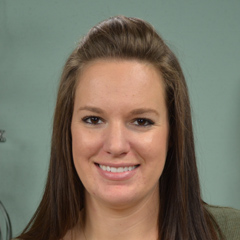 Jelly Roll Rug
Ashley Hough
A jelly roll rug is a fun and easy project to make from 2 ½" pre-cut quilting fabric strips, known as jelly rolls. Ashley Hough shows you how in this jelly roll rug tutorial.
Supplies and Preparation
Ashley begins by going over the supplies needed to make a jelly roll rug, which include fabric, batting and binding clips. She shows how jelly rolls generally come from the fabric store and explains the different number of strips that can be within one roll. She also shows how you can cut your own 2 ½" strips, or if you are someone who uses that width of strip when binding quilts, you can save your leftover strips and make a rug from the scraps. Ashley then talks about the batting needed to make the rug. Pre-cut strips of 2 ½" wide batting are available to purchase already cut, or you can again cut your own. When quilting your quilt, especially if you are using a long arm quilting machine, it is common to have 4" to 6" of extra batting all around the perimeter of your quilt that you have to trim away before you can bind it. Next time you do this, save those small strips and pieces and use them in a jelly roll rug.
Construction
Ashley then shows how to construct the jelly roll rug. She begins by showing how to sew the strips together and then how to wrap the strips around the binding. She shows how to use the binding clips to easily hold the bulky layers, rather than trying to use pins. Ashley then shows how to start winding the fabric and batting to create the rug, explaining that you can either start with a circle or an oval, depending on how you'd like the final rug to look. She finishes the jelly roll rug tutorial by showing how to attach all 'rings' of the rug using a zig-zag stitch and then how to finish off the end.
Once you've made a fun jelly roll rug, try out other fun projects with jelly rolls like creating a quilt block with jelly rolls or making a rail fence quilt pattern using a jelly roll.
Popular All Quilting Videos videos
Explore videos by Ashley Hough