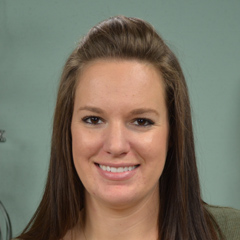 Bargello Quilt
Ashley Hough
Quilters are drawn to color and a bargello quilt is the perfect example. Join Ashley Hough for this bargello tutorial as she discusses all you need to know to successfully create your own version.
It all begins with a gradation of color. Your selection of fabrics should include a minimum of 6-7 pieces for the motion or wave to become evident in your patchwork. Ashley discusses the use of solids, semi-solid fabrics as well as prints. Creating a flow of colors can be subtle with slight changes in value or more dramatic with sharper changes in color. In this example of a bargello quilt, 2-½" strips are used, and Ashley has selected yardage in a gradation of yellow into gold with a medium gray accent. If you love precuts you can create jelly roll bargello quilts using a color coordinated fabric line. The possibilities are endless.
Other tips that Ashley stresses in this bargello tutorial include: working with half length strips, keeping your color gradient organized, stitching accurate seam allowances, the importance of pressing as you go. Once the strip set tube is stitched the process of folding and aligning the strip for sub-cutting is demonstrated. Next, the method of "unstitching" the tube at strategic points is shown. Ashley walks you through the block creation and points out the nested seam technique for perfect intersecting seams.
Once a bargello quilt block is assembled there is a discussion of how to join blocks with units that will continue the graphic design. This technique can be used to create a quilt or a fun bargello table runner.
Ashley provides a downloadable chart for cutting the variety of widths used in her sample quilt. So, whether you are creating blocks with jelly rolls or cutting into your favorite stash of quilt fabrics you have everything you need to know about making a bargello quilt to dazzle the eyes.
Popular All Quilting Videos videos
Explore videos by Ashley Hough