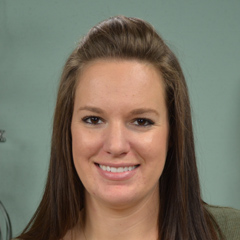 Joining Quilt-As-You-Go Blocks
Ashley Hough
Quilting an entire quilt, especially a larger, bed-sized quilt, can be intimidating. Learn how to break it up into smaller, more manageable sections using an easy quilt-as-you-go technique.
There are several different versions and techniques for quilt-as-you-go. Ashley Hough shows you how to join your blocks with sashing and backing fabric.
Quilt-As-You-Go Blocks
Prep
Ashley begins by explaining how to prepare the blocks that are going to be joined using the quilt-as-you-go technique with the sashing strips. Blocks can be pieced as normal before they are layered with batting and backing fabric and quilted. Ashley demonstrates how to layer the pieces, showing that the batting and backing fabric need to be larger than the pieced block.
Quilting & Trimming
When quilting the blocks, it is important to stay at least ¼" away from the edge of the blocks in order to be able to sew them together. Once the blocks have been quilted, Ashley shows how and where to trim up the batting and backing fabric.
Joining the Blocks
After all of the blocks have been prepped, it's time to start joining the quilt-as-you-go blocks. Ashley shows how to sew the backing fabric of the blocks together first, then trim the batting between the blocks so that they lay flat against one another. The fabric of the pieced block is then overlapped and pressed. With the backing fabric sewn together, Ashley shows how to prepare a strip of fabric that will be placed on the quilt top and stitched down to mimic a sashing strip. Ashley shows how to do this technique with single blocks, then how to sew attached blocks together into rows.
This is just one of a variety of ways to join quilt-as-you-go blocks. Next, try our quilt-as-you-go strip quilt, and check out these other quilt-as-you-go easy scrap quilt ideas.
Popular All Quilting Videos videos
Explore videos by Ashley Hough