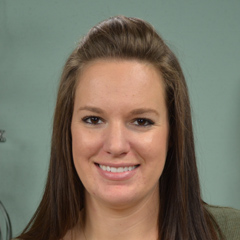 Measuring Precuts
Ashley Hough
When we shop for fabrics or select a pattern, there is now an entire grouping of items centered around using pre-cuts. The patterns can vary from simple to highly complex, which is inviting for quilters who are just beginners to the more advanced skills. Your instructor, Ashley Hough, will cover everything you need to know to work with pre-cuts in a future quilt efficiently. But for those new to quilting and those looking to try something outside their favorite "go-to" patterns, the "pre-cut" world offers many possibilities.
Along with a quick way to purchase a grouping of coordinated items from a specific fabric line, it lessens the time we spend cutting simple strips or squares. It also has its own set of terminology. Pre-cuts can be found called jelly rolls, strip packs, or design strips. The names may vary slightly by brand, typically 2-½" by fabric width, and usually include 42 strips. Others will be labeled "charm packs," which originated years ago from exchanging 5" squares among quilt friends. Charm packs typically also include 42 pieces. The last grouping is the pre-cut 10" squares, usually called Layer Cakes, but can also be called simply 10" squares.
Now that we have them defined, Ashley will show you how to look over the pre-cut to help you understand any adjustments or allowances you may need to consider when using them in a quilt. As Ashley will show you, not all pre-cuts are the same. Checking to see if the peak or valley of a pinked edge falls in the width of a pre-cut strip or pre-cut square can be valuable information when joining pieces for a patchwork block.
If you want more videos about pre-cuts or classes using pre-cuts, follow the links.
Popular All Quilting Videos videos
Explore videos by Ashley Hough