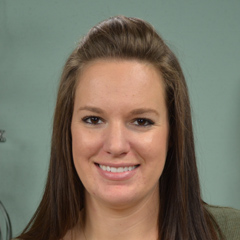 Dresden Plate
Ashley Hough
A Dresden Plate is a fun circular unit that can be added to a quilt block or top as an appliqué, or easily turned into another fun project. Ashley Hough shows you step by step how to make a Dresden Plate and gives tips on how to ensure that your unit lays flat once constructed.
Dresden Plate Template
Ashley explains that in order to make a Dresden Plate unit, you must first have a Dresden Plate template. Dresden Plate are just one of the few quilt patterns that require them—learn how and when to use quilting templates. She shows that there are many different sizes of Dresden Plate templates that can be purchased at most craft or fabric stores, or they can be printed from online. If you go the printed route, you will want to then transfer and make the template from a thicker template material rather than just using the printer paper to help keep you from cutting into the template.
Ashley then shows how to position the template on a fabric strip and cut out the needed number of pieces. She then shows how to fold and stitch the top of the strip to create the point. She gives tips on where to start and stop stitching to avoid stitching coming loose or threads being seen. She also shows how to use a technique known as chain piecing to easily stitch all of the pieces needed right after one another.
After all of the pieces are stitched, Ashley shows how to turn them right-side out and press. She explains how the seam allowances should be pressed and why. She then shows how to stitch all of the pieces together and how to press them so that the finished Dresden Plate lays flat.
Once your Dresden Plate has been finished, you can appliqué it onto a quilt block or top, or turn it into another fun project. Once you've mastered the Dresden Plate, learn tips for creating templates for foundation piecing.
Popular All Quilting Videos videos
Explore videos by Ashley Hough