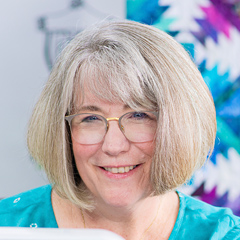 String Quilt Blocks
Colleen Tauke
String quilt blocks are the perfect way to use up scraps of lots of different fabrics, or make a fun quilt from a collection of fabric. Colleen Tauke shows you step- by- step how to make a string quilt.
String Quilt Blocks: Step-By-Step Cutting and Assembly
Colleen begins by explaining what a string quilt is and showing several examples. She explains that they can be a fun way to use lots of different colors and prints of fabric within one quilt by using all of one type of fabric, like a batik, or all one collection of fabric, like a Civil War reproduction collection. For more fun videos on different fabric types, check out Stitched Fusion: Quilt Fabric Ideas.
Colleen then talks about the size of strips you will need to make your string quilt blocks, including a variety of different lengths and widths. She also talks about how to use strips that you may have purchased pre-cut, that have a pinked edge.
Once you have determined the size of the string quilt block you want to make, Colleen explains what size of background square you will need to make your block and why. She then shows how to mark an initial diagonal line on the background square and then how to start adding the first two strips of fabric to the square.
Once you have the first two strips of fabric secured onto the background square, Colleen shows how to continue adding strips in both directions off the center until the entire square is covered. Once everything is stitched, the string quilt block can then be squared up and assembled with many other blocks.
While string quilt blocks are great blocks to make with strips, they are the only ones- learn about creating a quilt block with jelly rolls.
Popular All Quilting Videos videos
Explore videos by Colleen Tauke