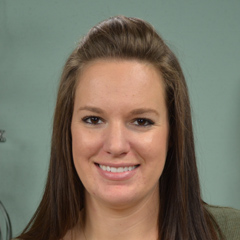 Aligning Blocks by Folding
Ashley Hough
Patchwork is a great creative outlet; our industry has many tools to help us in that creative process. Yet, there are times when tools and products can be set aside for a very "old-school" approach. Join Ashley Hough, your instructor, as she provides some valuable strategies for quilt block alignment.
Visually, the arrangement of patchwork sections creates a balance and flow from one portion of a project to another. How can you ensure that all those pieces fit properly and do not become distorted? Ashley demonstrates various quilt block alignment applications where folding is the ticket.
Her first topic covers all things curved. Curved pieces are challenging to measure and difficult to align. With a folding trick for block alignment, she presents the perfect solution. Her suggestion for folding and creasing each section leads to a beautifully nested set of curved pieces ready for stitching. No measuring or tools are needed, and it works every time. These tips for aligning quilt block pieces will come in handy for years.
The second application of the folding method for aligning borders can be used on every quilt with a border. This will assist you in keeping your borders from becoming distorted as they are applied and result in a more accurately "squared" end product. She discusses how simply stitching the borders without centering can lead to an improper fit. She shows you the folding method to divide each side of a quilt into even lengths. This folding method for aligning borders doesn't require measuring but a simple pin matching after marking the quilt top and border strips. She also covers the advantages of any adjustments that may need to occur as a border is joined to the patchwork top. This allows any fullness to be distributed evenly along the seam without shifting the entire border strip.
You can find more information on attaching borders to a quilt and creating wavy or scalloped borders by following the links.
Popular All Quilting Videos videos
Explore videos by Ashley Hough