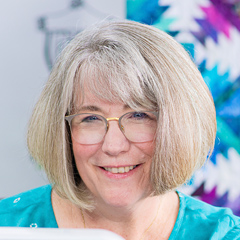 Curved Piecing with the Quick Curve Ruler
Colleen Tauke
Intro to Curved Piecing
Curved piecing makes the eye move around a patchwork quilt with interest and motion. Learning how to approach curved piecing opens up a new set of possibilities in quilt design and construction.
Using the Quick Curve Ruler (QCR)
Join Colleen Tauke, your instructor, as she introduces you to the Sew Kind of Wonderful Quick Curve Ruler(QCR). She will walk you through the anatomy of the tool, pointing out the cutting slot, the popper rotary cutter to use, and the alignment marking so that your units are cut for an exact joining.
You will see a demo of how to join the two sections with a quarter-inch seam allowance. Whenever you are learning a new skill, give yourself some grace. Curved techniques take a bit of practice. The first attempt may not be your best, but you will see noticeable improvement by the second or third seam. We then discuss the pressing process and how to determine the direction to press the seam allowance in a curved piecing unit. This can be influenced by the color of the fabrics used and the weight of the individual fabrics. The QCR will change how you approach curved piecing because of the ease of cutting even multiple layers if desired.
Mastering Curved Piecing
Once the units are pressed, you will see a demonstration of how to use the QCR tool to trim the units for pretty patchwork units. Once trimmed, the blocks can be arranged according to a pre-set pattern, or the sky's the limit when creating your own original setting. Colleen shares some arrangement ideas by simply making units in a two-color combination. Once you have mastered the seaming technique the Quick Curve Ruler opens up endless new design ideas. Fall in love with curved piecing.
For more instructional videos about traditional curved piecing and petal applique that creates the look of curves, follow the links provided here.
Popular All Quilting Videos videos
Explore videos by Colleen Tauke