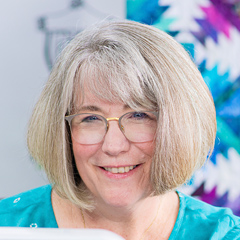 Autograph Memory Quilt
Colleen Tauke
Create a Memorable Autograph Signature Quilt
Marking a special event quilt with a "one-of-a-kind" gift is priceless. As quilters, we look for unique ways to celebrate life's journey. An autograph signature quilt can be that special gift. But how do we collect the signatures, what kinds of pens should be used, and how do we make those units a memorable gift? Join Colleen Tauke and Laura Peters to learn all the tips and tricks to creating the perfect autograph memory quilt for your next special life event.
Color Selection and Fabric Choice
In this video, we discuss color selection for a unified theme and the type of fabric to use for the signature portion of the blocks. We will also discuss the types of pens typically used for quilt labels and the size of the writing tip that works best for these autograph quilt blocks. The downloadable pattern for this project includes the smaller "wheelchair" appropriate quilt and a larger lap quilt that provides a more significant number of signature pieced blocks. This pattern also included the template for a signature sleeve that can be used when collecting autographs or having individuals share messages. This ensures that guests correctly place the news on the fabric, leaving a ¼" seam allowance needed for construction. Your instructors also cover how to stabilize the fabric for ease in writing.
Creating the Center Focal Partnership
After the simple construction of the pieced blocks, your instructors cover various possibilities for creating the center focal partnership used in this specific autograph quilt design. Ideas include: inking, hand embroidery, machine embroidery, applique, and specially designed vinyl applications. That center block can consist of a name or names, dates, poetry, a bible verse, or symbols. Once the center is complete, the instructions and diagrams in the pattern will assist you in arranging and joining the correct number of blocks into rows and sections. Along with spacer borders, the quilt is completed by joining these to the center rectangle. We briefly cover the quilting and thread choices to complete the memory quilt project.
If you want more quilt videos and to learn about precision piecing, follow the links provided.
Download the Autograph Memory Quilt Pattern
Download the Signature Sleeve Templates
Popular All Quilting Videos videos
Explore videos by Colleen Tauke