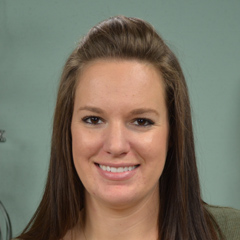 How to Make a Disappearing Four-Patch Quilt
Ashley Hough
Four patches are great beginner blocks to make and can be used in nearly any quilt design—from background blocks to main focal points to even an entire quilt made from them. Ashley Hough shows you how to make two fun alternatives to a four patch with a disappearing four patch done two different ways.
Four-Patch Basics
Before you can learn how to make a disappearing four patch, you must first start with a four patch. Ashley shows what this is and explains how it is constructed from just four squares of fabric. The four squares are sewn together into two rows of two, and then the rows are stitched together.
Ashley explains that while the seams are generally pressed to the darker of the two fabrics in a four patch, they might need to be pressed in a different direction when making a disappearing four patch so that the seams nest. Ashley then shows how to cut apart the stitched block in several areas both vertically and horizontally. She explains that where to cut is based on measurements from the center seams, meaning that this disappearing four-patch technique can be done on any sized block.
Ashley then shows how to rearrange the sections of the four patch and then sew them back together to get a completely different-looking block. Once she demonstrates the first method for making a four patch disappear, she explains a second. While the steps are fairly simple—cut a four patch apart in several areas, rearrange and then re-sew—where you cut the four patch apart is different.
She demonstrates how to make the second disappearing four patch, explaining that is is slightly more complicated than the first. Once you master both of these disappearing four-patch techniques, check out more quilting projects, including how to make a disappearing nine-patch quilt block.
Popular All Quilting Videos videos
Explore videos by Ashley Hough