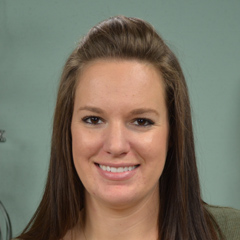 Quilt Points
Ashley Hough
When we view patchwork, many of us begin looking for the quilt "points." The points are defined as the intersection of seams, which can be simple corners of squares and rectangles, but more often our eyes travel to the areas of a quilt top that contain triangle shapes. Those more interesting angles and the sharpness of the tips of triangles refer to the quilt points.
When a seam is too deep, the points are missing or blunted and lost in the seam allowance. Other times the seam is too shallow and the points now "float." The last possibility is that intersecting points slide side to side and appear misaligned. The attention to detail that preserves those points is a credit to the quilter.
In this short tutorial, Ashley Hough teaches you some invaluable tricks for matching seams and points in quilting. As a beginner, many of us were taught to create opposing seams to help match intersections. This works, but when triangles are introduced into our design, bulky seams make this technique not very effective. The seams slide side to side, and matching points in quilting becomes nearly impossible.
Ashley introduces you to a pin-matching technique that can assist you as you join units and blocks. This multistep process reduces shifting and can make quilting perfect points an achievable goal. Learn how inserting a "matching pin" aligns the points and how and where to place additional pins for making the ideal seam with perfect points. She also teaches you a quick basting stitch method for those pesky seams that have points coming from different sides of our patchwork. Giving yourself a guideline left by the bobbin thread makes those seams a breeze.
If you are interested in learning an alternative method for quilting perfect points in patchwork, check out the following videos:
3

Responses to "Quilt Points"
Reply

Reply
Popular All Quilting Videos videos
Explore videos by Ashley Hough