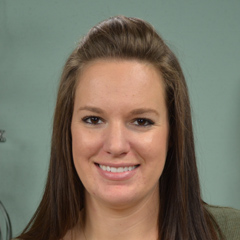 Cleopatra's Fan Quilt Block
Ashley Hough
The Cleopatra fan quilt block is an unusual and classy quilt block with loads of style. These blocks created with a variety of shapes include traditional and curved piecing. Learning tips associated with these skills will be valuable additions to your "tool box". Ashley Hough is ready to guide you through all the steps needed for this complex art nouveau design.
The pattern includes a set of downloadable templates which can then be transferred to template plastic. By labeling the Cleopatra's fan templates with a numbering code and grainline markings you will be able to use the coloring page as your road map during the construction of the Cleopatra's fan block. The coloring page that is included here is a great tool for determining color placement and various designs even before you select your fabrics. Ashley also provides tips on keeping the variety of pieces organized in order to streamline the process.
Cutting strips from the various colors/prints can be beneficial and make the cutting go more smoothly instead of dealing with large pieces of yardage. Ashley demonstrates the use of a rotating cutting mat in order to cut from a comfortable angle when working around the Cleopatra's fan quilt block templates. Safely moving from one side to the next for accurate, clean cut shapes. You will also learn about the blunt edges, or corners in the template piecing of the Cleopatra's fan block and how they are used to align patchwork pieces. Ashley demonstrates the proper pinning needed to keep shapes aligned until they are accurately stitched. The setting of each seam line and the pressing technique are also presented here.
This video continues through the construction process and will assist you in pin-matching sections and the pressing of seams to create a very artistic Cleopatra's fan block that can be used in many arrangements and designs.
Templates
Cleopatra's Fan Construction Order
If piecing with templates is something you want to further investigate, the Kaleidoscope block is another pattern you may want to learn. If you are drawn to blocks that have the illusion of curves you may enjoy the Snail Trail pattern made in a Spiral block construction method.
Popular All Quilting Videos videos
Explore videos by Ashley Hough