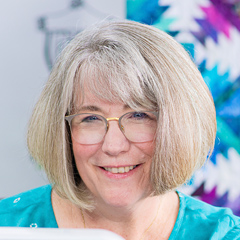 Crazy Quilt Blocks
Colleen Tauke
The classic crazy quilt style has been around for over a hundred. This type of quilt design is found to have started in the late 1800s and is still a favorite today. They utilize all shapes, colors, and fibers in their earliest examples. Today quilters borrow the look of the crazy quilt, but many sticks with the cotton fabrics they have accumulated over time. Fabrics left from previous projects and patterns. Your instructor Colleen Tauke will walk you through the process so that you, too, can create unique and original patchwork blocks.
Cutting an oversized base fabric is used to build your crazy quilt blocks. This ensures your block stays flat as you add pieces and shapes to the crazy quilt patchwork piece. You can select any shape as your center point. Three, four, or five-sided will all work. This creates the center where you will add pieces until the entire base fabric is covered. The video shows how to place fabrics' right sides together and add each piece. When the base is covered, the same size block can be trimmed from this crazy quilt block, always remembering to include the ¼" seam allowances.
Classic crazy quilt blocks would be embellished heavily with hand embroidery. Many stitch patterns, floss colors, and designs will be showcased. Machine embroidery stitches can also be used with various thread colors and styles. This adds texture and richness to the crazy quilt blocks found on historical quilts.
The finished blocks can be joined to a block or with sashing for an alternate design.
For additional information and videos about crazy quilt blocks and embellishment ideas, follow the links here. Enjoy creating your unique, crazy quilt with blocks as original as you.
Popular All Quilting Videos videos
Explore videos by Colleen Tauke