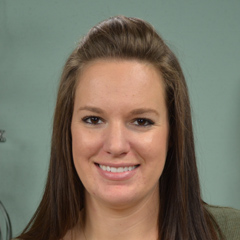 Fat Eighth Drawstring Bag
Ashley Hough
Simple drawstring bags are the perfect quick-and-easy sewing project. Typically they can be made in an afternoon and don't require large amounts of fabric. Ashley Hough shows you how to make a drawstring bag even simpler by using pre-cut pieces of fabric. Learn how to make a fat eighth drawstring bag step by step.
Making a Fat Eighth Drawstring Bag
While pre-cut pieces of fabric aren't required for this project, they do make it even faster to assemble by eliminating a step. Ashley begins by showing what a fat eighth is and explaining where they can be found and how they are generally packaged. She also explains a couple aspects of pre-cut fabrics to keep in mind if using a directional print or another print where it would be easy to see if it was not properly aligned on the rectangle of fabric.
A fabric print not being aligned does not mean that you cannot use the fabric—rather, it just needs to be squared up first, and Ashley shows how to do this. Next she shows how to fold and press the fabric to create the two sides of the fat eighth drawstring bag and begin to create the upper edge hem and drawstring space. Once those folds have been stitched in place, Ashley shows how to finish the edges of the drawstring space so that they do not unravel when using the bag. One of the last steps is to stitch the sides of the bag.
Ashley then shows how to do this and then how to finish the raw edges. Lastly, the fat eighth drawstring bag needs a drawstring. Ashley shares what she used for the drawstring and also shares several other ideas as well. Once you whip up several quick and easy fat eighth drawstring bags, check out these other fun projects!
Popular All Quilting Videos videos
Explore videos by Ashley Hough