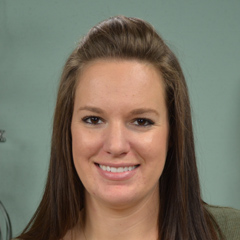 Double Wedding Ring
Ashley Hough
The double wedding ring pattern is a classic quilt design that creates an intriguing visual feast for the eyes. Instructor Ashley Hough guides you through the various steps you will take as you build the design. She will introduce you to the four basic shapes that make up this pattern and how they are aligned to make those circles appear to be linked.
This double wedding ring pattern can be cut out in various ways. Double wedding ring quilt templates can be paper in origin and used to cut out the various shapes. Other options would include purchasing a set of acrylic templates or using a die cutting system for cutting the patchwork pieces. You will have at least four shapes. The center is a four-legged "square", there is the strip or arc, the melon and the curved diamond. As you will see this design will help you sharpen your curved piecing skills.
Ashley will walk you step-by-step through the very detailed process to assist you in creating all the curved seams that are used throughout the double wedding ring quilt top. Pinning, as well as, an easy folding technique helps when centering patchwork pieces as you join them together. She also points out the correct "dog ears" that you will encounter as you stitch the various seams.
Pressing is always vital to perfect patchwork. Ashley demonstrates setting the seams on curved piecing and the challenges you may face. Her process will assist you in creating beautifully pressed seams. The pin matching method for aligning intersecting seams is shown in detail and is valuable in the double wedding ring pattern as you join arcs and melon sections.
Once you have created the correct number of arc/melon sections for your double wedding ring quilt, Ashley then defines "the block" and how to arrange and join these blocks into rows. She gives tips and tricks for continuing the curved piecing for graceful curves and precise intersections. She also addresses the final pressing issues with directions for pressing those seam allowances with clipping options to release seams for pressing success.
This valuable step-by-step video covers all you need to know to successfully piece a double wedding ring quilt.
Templates
Popular All Quilting Videos videos
Explore videos by Ashley Hough