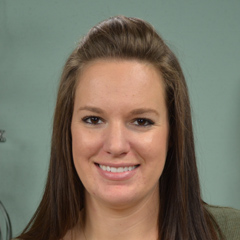 Bernina Q 16 Longarm Quilting Machine
Ashley Hough
Quilting anything from a single block project to a large quilt is easy on the Bernina Q 16. This Q series sit down machine has 16 inches of throat space to easily accommodate any project.
The block featured in this video finishes at 16", making it the perfect project to either practice or master your quilting. This block is made from square-in-a-square units, quarter square triangles, half square triangles and basic squares. For complete cutting and assembly instructions, download the free pattern. When it comes to quilting, the Q16 makes it easy to have precise, even stitches every time- no matter how fast or slow your move your fabric, with a sensor driven stitch regulator. This is known as BSR mode. In BSR 1- when you stop moving your fabric, the needle keeps moving up and down. This can help when turning corners or changing directions. In BSR 2- when you pause moving the fabric, the needle pauses. This helps eliminate any build-up of stitches that could happen if you stop for too long in one spot. BSR 3- is a basting mode and can do 1, 2 or 4 stitches per inch. This means there's no more need for pins to hold your layers together. In BSR mode you can control your stitch length by setting it anywhere from 1 to 24 stitches per inch. The final mode is complete manual mode.
The Bernina Q 16 also features digital thread tension control that allows you to adjust the thread tension in small increments to get the perfect stitch. Once you find it- simply save your settings so you're ready for your next project. The Q16 has lots of quilting feet to choose from including any of the free motion feet that fit on Bernina sewing machines you can put on the Q16, and you can put them on without tools. Also, with the BSR, you can have stitch regulation with any foot, which even includes ruler work!
This machine, like the larger Q20, can be paired with either a standard, height adjustable table or a foldable, height adjustable table. This table in this video has an electric lift, which makes the transition from sitting to standing effortless. It can be positioned anywhere from 29" to 42". With multiple sew heads, frames, cabinets and tables- all interchangeable with one another- that comes out to 14 different combinations at 10 different price points, so whether it's the Q 16 on the Elevated cabinet, or another combination- Bernina has something for you.
Now that you've learned about a great long arm quilting machine, learn about preparing your quilt for longarm quilting and getting started with a longarm quilting machine.
4

Responses to "Bernina Q 16 Longarm Quilting Machine"
Popular All Quilting Videos videos
Explore videos by Ashley Hough