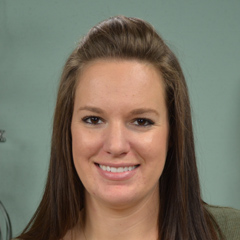 How to Make a Rag Quilt
Ashley Hough
Rag quilts made from flannel fabric are a great way to add texture to your next quilting project. Ashley Hough shows you step by step how to make a rag quilt.
Tips for Making Rag Quilts
The first step in learning how to make a rag quilt is knowing what supplies you will need and what size to cut the squares. Ashley explains that both layers of the quilt, the top and the back can both be made from flannel fabric. Traditional quilts are made with a layer of batting in between, and while that is still a possibility with rag quilts, Ashley explains how a third layer of flannel can be used in place of the batting. This will eliminate any raw edges of batting showing along the ragged edges.
She then explains what size to cut the squares, depending on how large you want your quilt to be and whether or not you want to do any additional quilting on the squares. Ashley then shows how to layer the squares of flannel fabric- the back, batting replacement and top. Because there are multiple layers of flannel fabric coming together, it is much thicker than a standard quilt and can be difficult to pin. Ashley shows an alternative to pins to use when quilting with flannel. She then explains how to stitch the squares together into rows with the raw edge exposed.
Once all of the rows have been stitched she explains how to sew the rows together, making sure that the seam allowances are evenly distributed before stitching over them. Once all of the rows have been assembled Ashley explains several ways to finish the edges and then shows how to make many small clips along the seam allowance to create the rag effect. Once it has been clipped, the last step in learning how to make a rag quilt is to simply wash it so that they edge crinkle and look more organic. Once you make a rag quilt, check out other tutorials on more quilting projects.
Explore videos by Ashley Hough