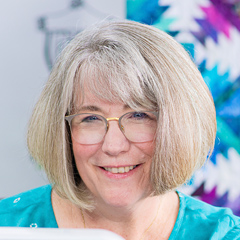 Triangles with Rulers
Colleen Tauke
The whimsy of the triangle quilt is one that is sure to capture the quilter's heart. Where does one start and what are the variety of triangle rulers available that can jumpstart your quilting experience? Join Colleen Tauke as she presents all things triangle. Learn about the various 45 degree triangle ruler options, along with the 60 degree triangle ruler options, how they are similar and how they differ.
You will be introduced to the easy cutting method when quilt cutting with the degree ruler. We begin with simple strips of fabric and then by aligning the triangle rulers with the cut strip, you can quickly and accurately cut triangle shapes. Many of the tools will also allow for half triangles that can be used to finish out patchwork rows with a clean outer edge.
You will learn about the use of spray starch or sizing to reduce the possibility of distorted bias edges when piecing the triangles into rows. This is a common issue many quilters encounter and a simple step can alleviate that bit of stretch making for a more evenly pieced patchwork quilt top.Your instructor will also give you tips on how to successfully join shapes using the blunted tip of the triangle patchwork for perfect ¼" seaming. She will point out the area where your seam line should begin and end for the accuracy you desire.
Pressing of seam allowances is always an area quilters have questions and concerns. You will see a demonstration on how pressing each row of a triangle quilt in alternating fashion and how this can assist in the perfect points arena. Your instructor will demonstrate a pinning method for alignment of seams. If you have struggles with perfect points and want a foolproof method, watch for the trick that works every time.
If you would like to investigate other videos about the best quilting ruler for the job or other helpful ruler accessories follow the links here.
Popular All Quilting Videos videos
Explore videos by Colleen Tauke