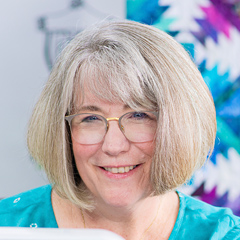 Mastering Quilt Binding: Tips and Tricks for Perfect Finishes
Colleen Tauke
Finishing quilts can be challenging until you learn binding techniques you enjoy. Join your instructor Colleen Tauke to learn some tips and tricks to making binding that works great every time. Once you have mastered these and found what works best for you, we hope the binding process becomes more enjoyable as you put your last stitch into your patchwork creation.
Exploring French Fold Binding: Sizes and Durability
We will discuss the various sizes commonly used for French fold binding and the durability of this particular binding style.
Efficient Joining of Binding Strips: Diagonal Seams and Methods
You will see a demonstration of joining binding strips with a diagonal seam using a marking method or a sewing machine laser/projection line feature. Using the end-to-end method, You will also learn how to join strips when creating a striped binding.
Preparing Binding Strips: Pressing Techniques and Easy Starting Method
Once strips are joined, we will cover preparing binding by pressing the length of the fabric and how to press the starting point for an easy-to-learn "joining" method. This method eliminates all tools and the need for long binding tails manipulated for later seaming.
Step-by-Step Binding Application: Front to Back
Your instructor will demonstrate how applying binding to the front of the patchwork quilt can be done with a focus on the beginning preparations to secure the starting point. Then, she shows how you proceed around the quilt with close-up detail of the finishing step. Colleen points out how to trim the ending point and insert the tail into the starting fold to complete your binding application. The overlapping area must be closed by hand with tiny hidden stitches. Then you would proceed to the back of the project to hand stitch the binding fold to the back side of the quilt—a technique without tools for the perfect finish to all your quilt projects.
Exploring Further: Patchwork Techniques and Corners
Please follow the links for more detailed information on creating binding corners and other fun patchwork techniques like fussy cutting and four-patch prism blocks.
Popular All Quilting Videos videos
Explore videos by Colleen Tauke