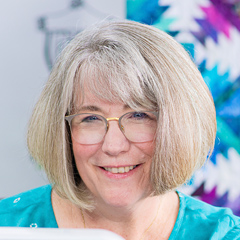 Triangles with Foundation Paper
Colleen Tauke
The most common unit used in patchwork is the half-square triangle. Making them by joining two triangles is tedious, making them two at a time is an improvement. But, how about cutting either strips or rectangles and stitching 10 or 20 in a matter of minutes, making multiple half-square triangles?
Your instructor, Colleen Tauke will present three different products that can assist you in creating multiple half square triangles—matching units for that next patchwork project that calls for hundreds of units.
Helpful Products for Making Multiple Half-Square Triangles
Thangles
First, you will learn about the product Thangles. This paper foundation is printed in columns and is easily used with pre-cut strips. Thangles also come in a variety of widths to accommodate a variety of size units. By simply cutting strips and matching the fabrics' right sides together, apply the pre-printed paper strip, and you are ready to sew. Following the broken lines for stitching and the heavy lines for cutting apart you will have made multiple half square triangle units you will have very precise, multiple units ready for your patchwork project.
Triangles on a Roll
The second product presented is Triangles on a Roll. As the name implies, this paper foundation comes on a roll. Just cut the length of paper that relates to the multiple half triangle squares you desire. Cutting a corresponding set of fabric rectangles is your next step. Pin the printed paper on the fabrics and stitch multiple half square triangles by following the broken lines and using the direction arrows as a guide to complete all the seams. Cut apart the triangles using the heavy lines as your guide.
Triangle Paper
The last product presented is Triangle Paper. This is very similar to the others, but is packaged on flat paper. It can be purchased in a variety of sizes and even is available in an assorted sizes package. Again, making multiple half square triangles with little effort and amazing accuracy.
Other Methods:
To see a video on chain piecing as a time saving technique and other ways to add triangles in patchwork, follow the links provided here.
Popular All Quilting Videos videos
Explore videos by Colleen Tauke