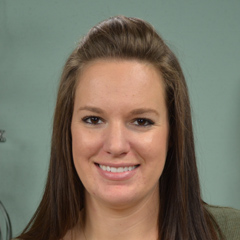 Quilting Tools by Clover
Ashley Hough
Making a beautiful, hand quilted table topper is easy when you have all of the right tools from Clover. Ashley Hough begins by showing the basic components that make up the table topper, which are rectangles, flying geese units, and square in a square blocks. She shows how to begin by marking the pieces using the water erasable marking pen by Clover. Ashley explains that when the line you are making is a sewing line, rather than a cutting line, it can be a good idea to use a removable marking option. Once she shows how to make these units, she shows how to use Wonder Fuse by Clover to add floral appliques and then explains that you will need to reference the free, downloadable pattern that goes with this tutorial for complete assembly instructions.
Once the table topper is assembled, Ashley explains that the next step is to layer the quilt top with batting and backing fabric to prep it for quilting. She shows how to use another Clover quilting tool for this step- Wonder Pins. She explains that the curved nature of these pins make them easy to open and close one-handed and insert through all of the layers. After the quilt has been basted, Ashley explains that it can be quilted using a variety of different hand quilting needles. While quilting, if you need to safely store your threaded needle, Ashley shows how to use the Dome Threaded Needle Case by Clover, which allows you to store up to 10 threaded needles without the threads getting tangled.
After the table topper has been quilted, the final step is to add a binding. Ashley explains that there are several different ways to add a binding to a quilted table topper, but shows the way she likes to finish small projects, which is by wrapping the backing fabric around the edge to act as the binding. She shows how to do this using another Clover quilting product- the Hot Ruler.
One

Response to "Quilting Tools by Clover"
Popular All Quilting Videos videos
Explore videos by Ashley Hough