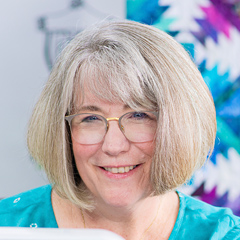 Curved Piecing
Colleen Tauke
Introduction to Curved Piecing
Quilting contains many seams. Seams help create a path for the eye to explore the overall design of the patchwork. Creating curved piecing brings another element of interest to our projects. Join Colleen Tauke, your instructor, as she walks you through the anatomy of the curve pieced unit and the cutting and piecing. Learn tips and tricks to make piecing curves less stressful and increase your enjoyment in the assembly.
Understanding the Two Basic Shapes
There are two basic shapes in the classically curved piece unit. You will be able to identify the convex and the concave shapes correctly. Colleen will present tips on cutting these pieces from strips to reduce wasted fabric. She will also talk about the best size rotary cutter, depending on the size of the pieces, that will most accurately cut along an acrylic template.
Joining the Curved Pieces
Once the two shapes for a curved piece unit are cut, we examine the variation in size, which notes the proper "engineering" to provide seam allowances when joined. Colleen will demonstrate the streamlined centering and 3-pin technique for joining the two shapes. This method is traditional to align sections and ensure the edges don't become distorted during the curved piecing process. Note the size of the pin "bite" used at the center and edges of the curved seam. One provides a bit of swivel from the center, and the ends are pinned securely with a larger "bite" to align the outer edges.
Mastering the Stitching Process
Lastly, the stitching process shows the careful ¼" seam being sewn. This skill will perfect your accurate and gentle curved seam, avoiding tucks or pleats in the seamline. Once your seam is complete, Colleen will show you the pressing process for a perfect curved piece unit every time.
Explore More Curved Piecing Techniques
For more videos that cover the curved piecing skill, follow the links for the double wedding ring and sewing curves.
Popular All Quilting Videos videos
Explore videos by Colleen Tauke