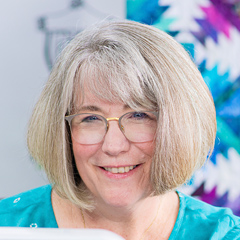 Create a String Block Table Runner from Fabric Scraps
Colleen Tauke
Discover the Joy of String Quilt Blocks
What is a quilter to do with scraps and strips? Make string quilt blocks, of course! Join Laura Peters and Colleen Tauke as they give clear and concise instructions on creating carefree and fun string piecing. String piecing is a style of foundation piecing that uses a neutral piece of fabric as the base for your blocks. This fabric will remain in the interior of your project, so a lightweight fabric is used. There are various types of foundation piecing, fabric, paper, and interfacing, to name a few. They will demonstrate how to determine the size of the base fabric and how to mark the placement of the first strip.
Step-by-Step String Piecing
Laura and Colleen will then show you the step-by-step process of adding strips, varying the widths, and the pressing technique used in making the blocks. Make sure to include a variety of light, medium, and dark fabrics for a dynamic string piecing design. Once the entire base fabric is covered, the blocks are trimmed to one consistent size, noting the placement of that first strip.
Exploring Unique Designs
Once your foundation piecings are completed, it is time to determine a setting arrangement. Laura and Colleen share various ways to arrange the blocks for unique and bold designs. They will also share two versions of the project. One is a monochromatic color selection of blue/aqua with a white accent, and the second is in a French country style that lends itself to a more "scrappy" appearance. The blocks are then joined into a table runner design. Both instructors share their approach to the quilting of the finished project.
Learn More About Foundation Piecing
To learn more about the process of adapting a pattern for foundation piecing using a paper-style base and a wash away style of paper, follow the links provided here. Let your adventures in foundation piecing begin for you.
Download the String Along Table Runner Pattern
Popular All Quilting Videos videos
Explore videos by Colleen Tauke