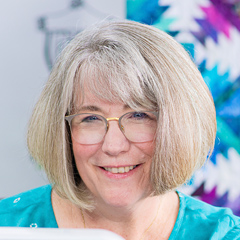 The TrueCut System
Colleen Tauke
The beginning of quilting and piecing is precision cutting. Finding the best tools for each quilter can be a challenge. The TrueCut system is designed to assist those who are looking for comfort in cutting and help keep the blade aligned with the ruler.
First, the My Comfort Cutter has a handle engineered for alleviating stress on the hand and wrist with an ergonomic design that is comfort driven. Learn how this rotary cutter is shaped and gripped for ease in cutting. Then, see how this cutter is quickly converted to be used with the TrueCut ruler system. Using an attachable rotary cutting guide and ruler track for fantastic ease in cutting and consistently straight cuts. It is perfect for beginners and those who may have dexterity issues. Once the stress point is adjusted, the cutting can be accomplished with improved accuracy. This rotary cutter can also be converted for use with traditional rulers, given you double the use.
Next, we examine the TrueCut ruler design and construction. It is designed with convenient holes for easy measuring, marking, stabilizing and placement. The ruler can be used with or without TrueGrips adhesive rings that keep the ruler from moving during cutting, This prevents accidents and creates a safer cutting experience.
As quilters we are always looking for tools that will improve our quilting experience, improve our comfort, make our measuring and cutting more consistent, and make our patchwork look effortless. This may be the system that fits your needs. Search for these products at your local quilt shop, purchase them online, or look for demonstrations at a quilt show in your area. Whether you are teaching new quilters or seasoned and accomplished quilters, the needs of our learners vary and so do our tool selections. The TrueCut system may be the answer.
For additional cutting related videos such as How To Square Up Fabric for Cutting and Rotary Cutting Safety, follow the links provided here.
Popular All Quilting Videos videos
Explore videos by Colleen Tauke