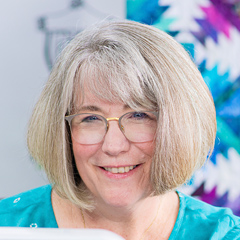 Pins to the Point
Colleen Tauke
Selecting the Best Piecing Pins
Getting started as a quilter can be an adventure. The terminology, the tools, and the wide range of fabrics can be overwhelming.
Our goal in this video is to assist you in selecting the best piecing pins for the type of quilting you find enjoyable. Join Colleen Tauke, your instructor, for this video as she presents a variety of possibilities and styles of straight pins for you to consider.
Understanding Pin Features
First, she will cover the denier or thickness of the pin and how this can affect the glide of the pinning process, and whether this can cause an unwanted shift in fabrics. The number of layers the quilting pins can easily pass as you align patchwork blocks and units. Those pins also come in a variety of lengths. This is another feature that many of us don't at first realize can impact the ease at which we can remove pins while piecing.
Pin Head Styles and Functions
Another feature that is covered is the pin head style. They are available in glass or plastic and can be decorative or traditional in shape. Some are created for heat resistance, while others may not. Knowing how you will be using the various quilting pins will assist you in selecting the correct ones for the job.
Exploring Different Pin Styles
Most quilters own a variety of styles of pins. They find a few favorite piecing-style pins early in their quilting journey. They may branch out into applique and then find the perfect applique pins. There continue to be innovative and creative advancements in the tool area. Over time you may find a new style or type of pin that works best for you.
Discover More Notions and Quilting Tools
Learn all about rotary cutters and how the use of red filter glasses can assist in fabric selection.
Popular All Quilting Videos videos
Explore videos by Colleen Tauke