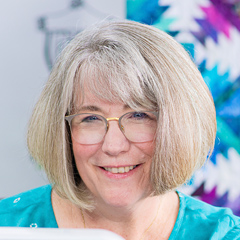 Fussy Cut Blocks
Colleen Tauke
Understanding Focal Points in Quilts
Focal points in quilts draw your interest as we examine the various parts of a block. How do you go about selecting fabrics and then motifs that will be perfect for just that purpose? Let's learn everything about "fussy cutting."
Exploring the Fussy Cutting Process
Fussy cutting is the most common term used by quilters – the cutting and placing of the perfect motif within a patchwork block. Join Colleen Tauke, your instructor, to examine all the details and considerations that go into the process.
Selecting Fabrics and Motifs
What fabrics will be best for this specialty cutting? What size works best? What block patterns should you consider? How much yardage is needed? And how do I determine the "repeat" within a printed fabric? All these topics are discussed in detail so that you can then evaluate fabrics for the fussy cutting process.
Identifying Motif Cut Blocks
Identifying an area for motif cut blocks takes some practice. Will a variety of motifs be selected from one print? Or is the desire for matching sections to be cut? How many blocks are needed for your particular project? Learn how to create an "auditioning window" to assist you when selecting designs that will fit into your desired patchwork block. This window is easy to make and carry to your favorite quilt shop as you search for the perfect fabric.
Determining Yardage and Cutting Process
Then determine the repeat in the print and the number of fussy cut blocks you can safely extract from the yardage. Always add at least one "repeat" to the overall total yardage purchased for insurance against miscuts or pattern and design changes that might occur. Next, the cutting process is demonstrated, and we will address the waste in this project.
Placing Fussy Cut Blocks
Once all your motif cut blocks are prepared, the patchwork portion of the project can then be started. We will also discuss where all your fussy cut blocks will appear directionally or randomly. The quilter's sensibilities heavily influence this, and there is no right or wrong answer – only a personal preference.
Exploring Other Uses for Motif Cut Blocks
For additional information on the fussy cut process and other ways to use motif cut blocks, follow the links here.
Popular All Quilting Videos videos
Explore videos by Colleen Tauke