We are excited to announce the next National Quilters Circle tour to beautiful Germany and Austria! Join us for an amazing experience combining incredible sightseeing, once-in-a-lifetime visits to the world-famous Christmas markets in Salzburg, Nuremburg and Innsbruck, hands-on quilting workshops, unique excursions and the opportunity to experience it all with fellow quilters.
Full Package Price: $3,893.00 | Air from New York JFK Land Only Price: $3,073.00 | Land only rate does not include airport / hotel transfers (per person, based on double occupancy)
To make your reservation call us at 815-663-4046 or Toll-Free at: 877-887-1188 (USA or Canada) 02393-880068 (UK) 18-0010-6424 (Australia) or submit your reservation online.
9 Day Germany Tour Package Includes:
Round-trip international airfare from New York City to Germany. (Airfare also available from your closest international airport for an additional fee. First/Business class upgrades are available.)
Hotel/Airport transfers for all full package guests.
Private deluxe motor coach and professional driver the entire time.
Professional Craftours tour escort the entire time.
First-class hotel accommodations in Ruhpolding and Salzburg. (Suite upgrades available)
Daily buffet breakfasts and special dinners.
Hand-quilting projects with National Quilting Circle guest instructor.
Quilting chats with National Quilting Circle guest instructor.
A walking tour of the charming Bavarian village of Ruhpolding.
An optional special workshop and demonstration crafting glass-blown Christmas ornaments.
Festival Christmas shopping in the historic Salzburg Christmas market.
An optional authentic "Apple Strudel" making workshop.
Visit places with exceptional photo opportunities on the way to the Bavarian countryside town of Oberammergau.
A tour of the Christmas Museum in Salzburg.
A walking tour of Salzburg including some movie locations from The Sound of Music.
Shopping in the world-famous Christmas market of Nuremberg.
Shopping in the village of Rattenberg.
Explore the Christmas market in Innsbruck.
Commemorative Craftours lanyard, backpack, and luggage tag.
All taxes are included, and travel insurance is highly recommended.
Germany Highlights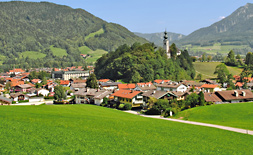 Ruhpolding
Ruhpolding is a municipality of the Traunstein district in southeastern Bavaria, Germany. It is situated in the south of the Chiemgau region in the Alps. Ruhpolding has a population of approximately 6,400.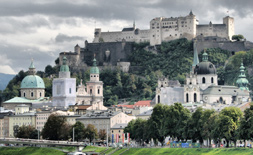 Salzburg
Salzburg's "Old Town" (Altstadt) has internationally renowned baroque architecture and one of the best-preserved city centers north of the Alps. It was listed as a UNESCO World Heritage Site in 1997. Host to three universities and a large population of students. Salzburg is noted for its attractive setting and scenic Alpine backdrop.Salzburg was the birthplace of 18th-century composer Wolfgang Amadeus Mozart. In the mid 20th century, the city was the setting for parts of the musical play and film The Sound of Music.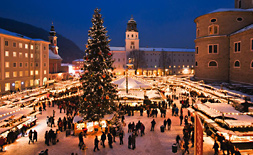 Christmas Market Salzburg
The tradition and ambiance of Salzburg's Christmas market make an ideal setting to start off the Christmas season. Every year visitors are enchanted by the charm of Cathedral Square, the traditional booths, the strings of light and the quality of the diversified items on sale. Come and enjoy some of the magic this year: from traditional handicrafts, fine baked goods, aromatic tree ornaments and various objet d'art for the Christmas season.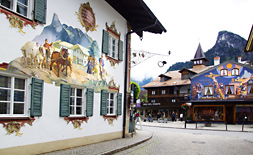 Oberammergau
Oberammergau is a municipality in the district of Garmisch-Partenkirchen, in Bavaria, Germany. The town is famous for its production of a Passion Play, its woodcarvers, and the NATO School. The Oberammergau Passion Play was first performed in 1634 and is the result of a vow made by the inhabitants of the village that if God spared them from the effects of the bubonic plague then sweeping the region they would perform a passion play every ten years. The play is now performed in years ending with a zero, as well as in 1934 which was the 300th anniversary and 1984 which was the 350th anniversary. It involves over 2000 actors, singers, instrumentalists and technicians, all residents of the village.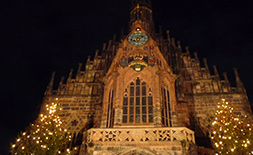 Nuremberg Christmas Markets
The enticing smells of mulled wine and rum punch, roasted almonds, Nuremberg bratwurst and gingerbread fill the air. And it's not only tiny tots who will have their eyes all a-glow as the Nuremberg Christkind appears on the balcony of the Church of Our Lady to open the holiday season. During this season, the "little town of wood and cloth" will shine in the heart of Nuremberg's Old Town and turn it into Christmas City. More than 180 market stands – all decorated for Christmas with fresh greens and lights, the local gold-foil angel, Zwetschgenmännle made of prunes, toys and games and delicious holiday treats to eat and drink. This is a one-of-a-kind atmosphere where you can enjoy the magic of the Nuremberg Christmas Market!
---
Optional Tours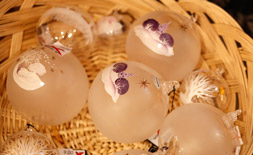 Glass Ornament Workshop
The quaint village of Rattenberg is the smallest town in Austria, but home to some of the most amazing glass artisans. This is where we will participate in a glass ornament making workshop. This glass art is used producing Tyrolean glass making techniques that were practiced centuries ago. You will learn from these master artisans what goes into creating this perfect craft and have the opportunity to create your own crafted memory.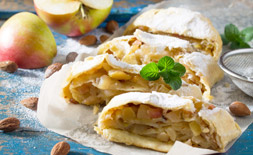 Apple Strudel Workshop
The apple strudel is originally an Austrial dish that has gained popularity throughout the world. Strudel a layered pastry with a filling inside that can be sweet or savory. In this workshop we will be making the most popular type, Apple Strudel. We will participate and learn how to prepare this traditional dish in the Austrian fashion. From marinating the apples to stretching out the pastry dough, the entire experience will be fun & delicious!
---
Testimonials from past Germany Tours
Barbara Canfora – "I traveled with Craftours to the Christmas Markets in Germany this past December, 2013. We all had a wonderful time. The trip was well planned with many points of interest and historical sites. There was also enough leisure time to do what you wanted to do including sightseeing and shopping in the Christmas Markets. Our bus driver and travel guide were great. They were very knowledgeable and spent plenty of time with us. I will be traveling with them again. It would be a wonderful experience if you could join them on one of the trips. I'm sure you will enjoy your as much as I enjoyed mine."
Suzette Beck – "The tour to Germany and Austria and the Christmas markets is an absolutely wonderful and beautiful trip. The tour gave us such a great view of Germany and Austria by going to beautiful castles, seeing Salzburg, the site of some of the Sound of Music filming, and of course plenty of shopping at the Christmas markets. Our accommodations in Germany were first rate in a small village which gave travelers a very homey feel and a personal touch. All of the tour guides were first rate and were experts in their geographic area. I've done nothing but rave about how great the tour since I returned from Germany."
Frieda Zuerner – "I traveled with Bonnie on the Christmas Market tour to Germany. I really enjoyed this trip. It surpassed my expectations by a long ways. I felt that the tour parts and the on your own time was nicely split. I think that we received great value for our money. It was great to have Bonnie along and loved her class on English paper piecing. I loved that the tour was flexible and allowed us to add a couple of side trips."
To make your reservation call us at 815-663-4046 or Toll-Free at: 877-887-1188 (USA or Canada) 02393-880068 (UK) 18-0010-6424 (Australia) or submit your reservation online.
Click here to view all tours.