Bali was a paradise in every sense of the word. We saw amazing sites, completed workshops with master batik artisans, went on incredibly unique tours, visited beautiful batik shops and experienced it all with fellow quilters. Read some of our best highlights from the trip below!
National Quilters Circle Bali Highlight Blog
Colleen Tauke and a group of amazing NQC Quilters went on a marvelous trip to Bali and we want to give you a glimpse into their tour with a few highlights! They got to experience the culture of Bali, see Batik fabric being hand-made, ride elephants and make their own project with Colleen while they were there. They had so much fun that we had to share some highlights of their trip with the rest of our community.
Arrival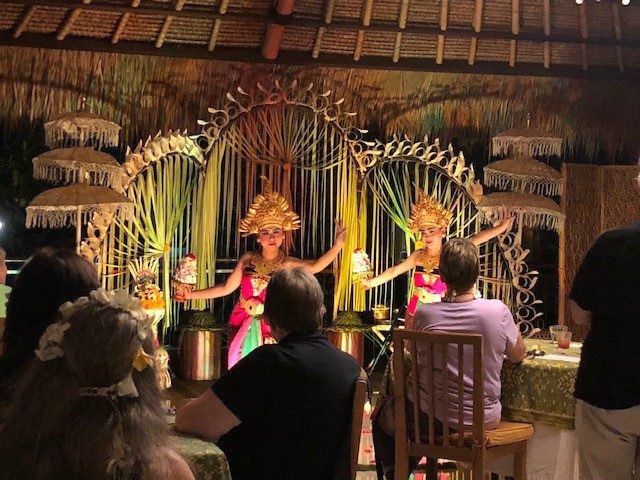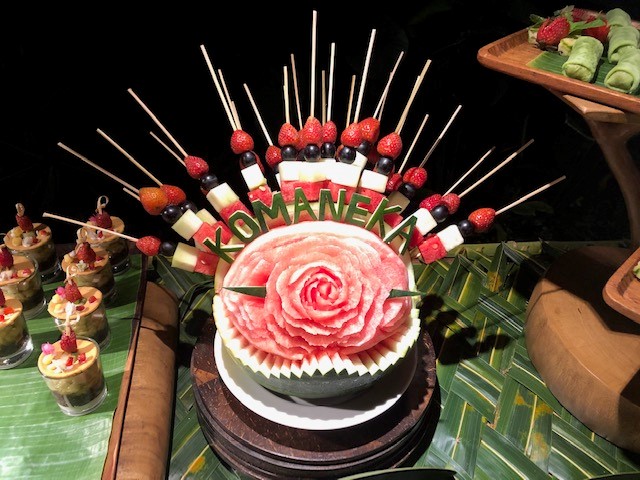 After a long flight, they arrived at their resort to a wonderful Welcome Ceremony! The Balinese performed a traditional dance to live music while the group got to have a bite for dinner. It was a great start to the trip to be introduced to the Balinese culture the very first night they arrived.
Art Excursion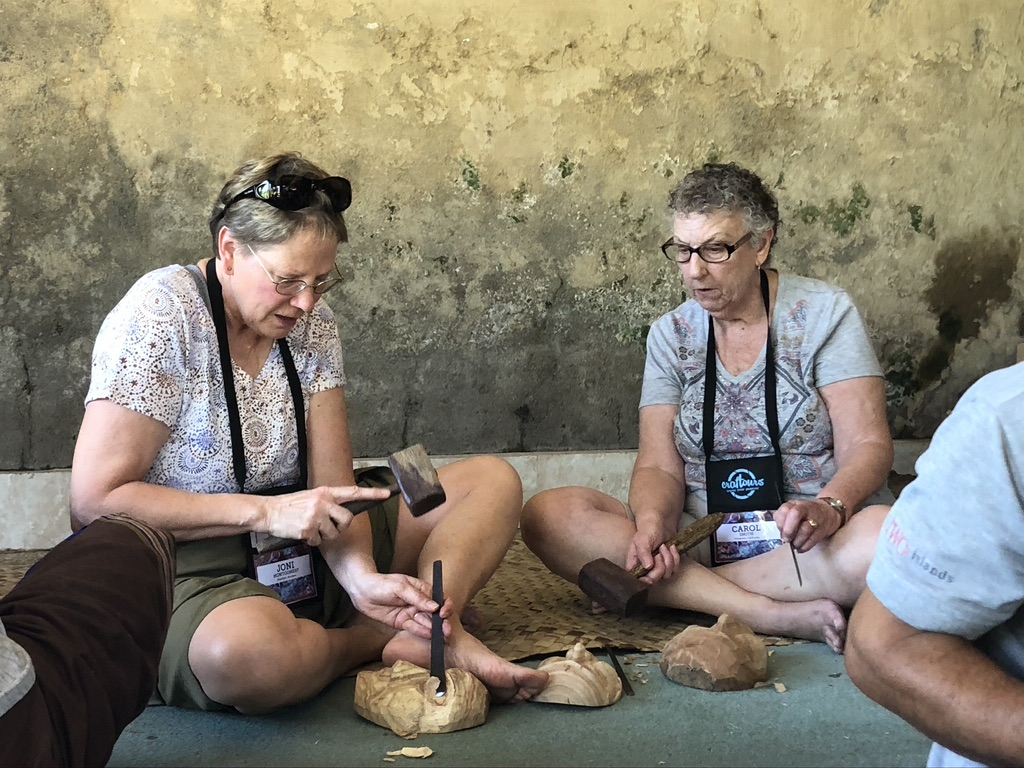 The group hopped on a private coach to their many excursions around the city. At a family-owned woodshop, they saw how the Balinese traditionally carve their wood sculptures and even got to try it out! Then, at the largest art gallery in Bali, they participated in a hands-on Balinese painting workshop. All the participants got to bring their masterpieces home with them.
Animal Sanctuaries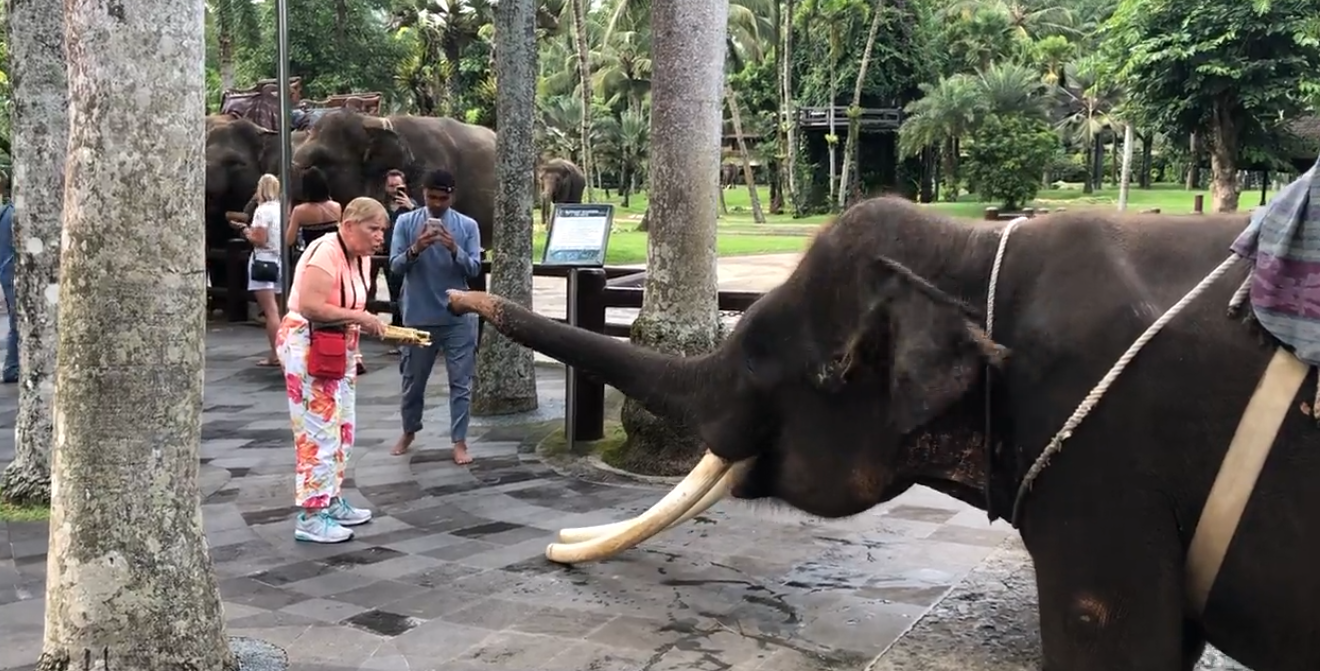 The participants headed to a Monkey Sanctuary to see the beautiful Bali wildlife. They gave treats to monkeys, watched funny pelicans being fed, and saw a hawk fly over their heads straight back onto its trainer's arm. At another animal reservation, the group got to feed baby elephants! Seeing elephants for the first time was a highlight for a lot of participants. They all got the chance to take a short ride on the elephants and one participant's elephant even decided to go for a swim with her on its back!
Batik Fabric Factory
The highlight of the trip was the Batik fabric Factory. As Quilters, we are always looking for beautiful fabric to incorporate into our projects. This factory was a Quilters dream! The small family-run fabric factory graciously closed for the morning just so the participants could have a tour and dye their own fabric. The group learned about the intense process that these fabrics go through as they followed their custom piece through the steps. The fabrics weren't ready for 24 hours, due to the steaming, drying and cutting processes, but once the shop owner brought the group's fabrics back to the resort, they were amazed by the vibrant colors and incredible quality of their custom fabrics. So amazed that many of them went back to buy more!
Much More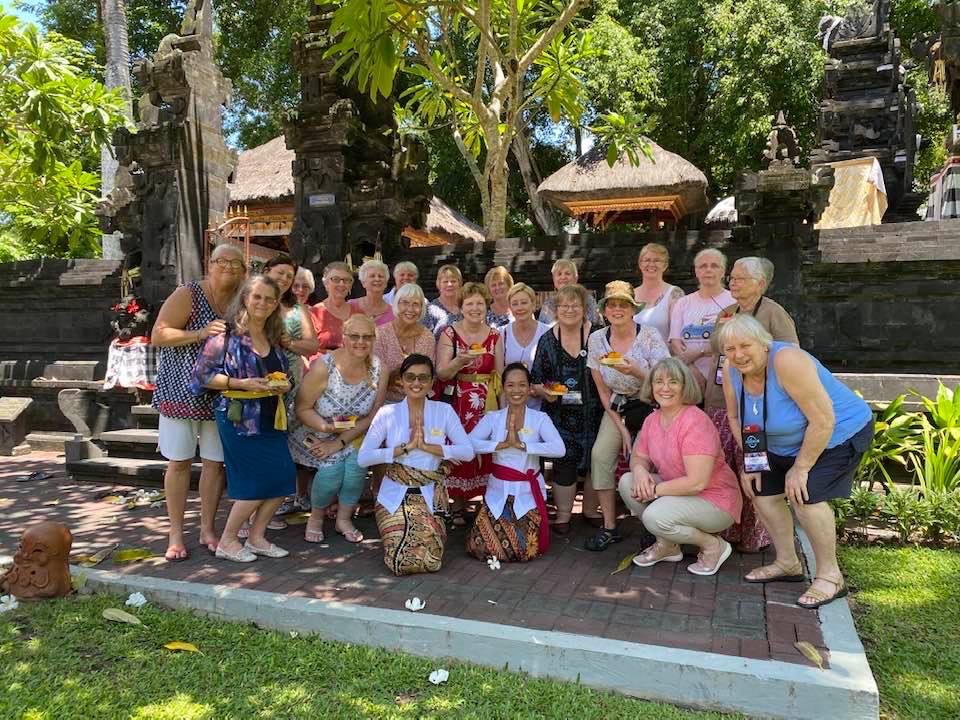 There is so much more this trip offered. The group had a great traditional cooking class, watched weavers create a fabric in front of them, and even got to go to the beautiful beaches of Bali. However, the best part was learning a bit more about quilting with the friends they created on this trip. Quilting can sometimes be a solo hobby, but now this great group has more than just quilting in common.
9 Day Bali Tour Package Included:
Round trip international airfare from Los Angeles to Denpasar, Bali.
Round-trip transfers to and from the hotel/airport in Bali.
Private deluxe motor coach and driver the entire time.
5-star hotel accommodations for seven nights in Ubud and Nusa Dua.
Hands-on batik fabrics art quilt project with Colleen Tauke! (materials provided)
Breakfast daily, some lunches and dinners.
Optional Balinese cooking lesson with a professional chef.
Behind the scenes tour of a well-known batik factory.
Hands-on freestyle and block-printing batik workshops with master batik artisans.
Unbelievable batik fabric shopping at discounted prices.
A jewelry-making demonstration by a family-owned jeweler.
A visit to the extraordinary rice terraces outside of Ubud.
Professional Craftours escort the entire time.
Hands-on Balinese painting workshop at the largest art gallery in Bali. (class kit included)
A wood-carving demonstration with a local family.
Optional visit to the Toro Elephant Safari Park.
Shopping in the Ubud arts and crafts market.
Optional visit to the Bali Bird Park.
Sightseeing tour of the Sacred Monkey Forest.
Touring and shopping at an Ikat Weaving facility.
Professional Balinese tour guide the entire time.
Craftours commemorative gift, lanyard and luggage tag.
Bali Highlights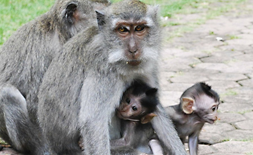 Monkey Forest Sanctuary
The Ubud Monkey Forest is a nature reserve and temple complex in Ubud, Bali. Its full name as written on a welcome sign is the Padangtegal Mandala Wisata Wanara Wana Sacred Monkey Forest Sanctuary. The complex houses approximately 605 Crab-eating Macaque monkeys. There are four groups of monkeys each occupying different territories in the park.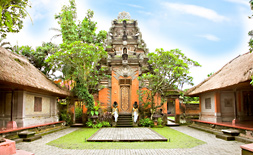 Ubud Royal Palace
The Ubud Royal Palace is one of the most prominent places in Ubud, as it is smack-dab on the main Jalan Raya Ubud road and intersection. The palace can also be regarded as the focal landmark of Ubud. The Ubud palace was built during the lordship of the late Ida Tjokorda Putu Kandel (1800-1823), and is well-kept by his successive heirs.
Optional Tours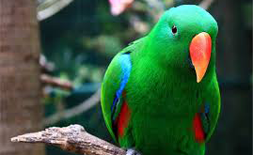 Bali Bird Park
Experience more than 1000 birds, 250 species and an experience that you will never forget. Bali Bird Park is one of the definite must-see attractions on Bali. Bali Bird Park is divided into regions that recreate the natural habitats of its birds, complete with indigenous plant life. A magical journey that takes you across the Indonesian archipelago, Latin America, Africa and Australia.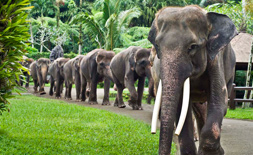 Elephant Safari Park
Elephant Safari Park is situated in a rather secluded location in the Village of Taro. Surrounded by the well-preserved forest ecosystem, the moderately cool climate of the Village was assessed as an ideal habitat for Sumatran Elephants.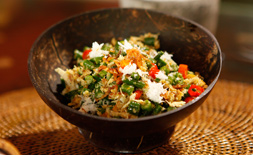 Bali Cooking Class
This cooking lesson invites culinary enthusiasts to step into the local gastronomy scenes and go on a journey of rich culinary discovery. You will be immersed in indigenous culture as you learn to prepare traditional dishes with indigenous ingredients, learning about the dishes' origins along the way.
Click here to view all tours.