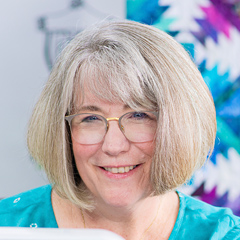 Make a Nostalgic T-Shirt Quilt
Colleen Tauke
Create a Unique T-Shirt Quilt
We collect t-shirts for so many events in our lives. Whether they mark our schooling years, are worn to support our favorite college or professional sports team, or are related to our favorite hobby, the draw only holds so many. Creating a unique and one-of-a-kind t-shirt quilt is the perfect place to showcase those graphic designs and logos near and dear to our hearts. Join your instructors, Laura Peters and Colleen Tauke, as they present the basics of creating the ultimate t-shirt quilt.
Selecting the Perfect T-Shirts
The process begins by selecting the shirts to be used and portions of the t-shirts that tell the best story. It is often the front, but backs, pockets, and sleeves can also be used. They will provide details on the sizes of blocks generally used and the cutting process to ensure once sections are stabilized, the same block can be trimmed to size. Smaller portions can be framed out to reach the desired size. They will cover the best stabilizers and how to apply them to the reverse side of each t-shirt quilt block. Always make sure to follow the manufacturer's instructions for heat settings and the length of time needed to apply any stabilizer properly.
Choosing Fabrics and Creating a Frame
Three fabrics are used in this ultimate t-shirt quilt pattern. Colors can be chosen based on a theme, school colors, or the recipient's favorites. Since most t-shirt quilts contain various colors, don't worry too much about perfectly coordinating everything. A simple strip set of borders is created to surround each "memory" t-shirt block. This process creates a frame that borders each block. Once the blocks are framed, they can be arranged into rows and joined with narrow sashing and cornerstones. An outer border completes the ultimate t-shirt quilt.
Learn More About T-Shirt Quilts
For more information on t-shirt quilts and courses available, follow the links provided here.
Download the T-shirt Quilt Pattern
Popular All Quilting Videos videos
Explore videos by Colleen Tauke