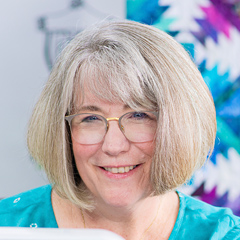 Topaz Treasure Sponsored by PFAFF
Colleen Tauke
Join Colleen Tauke on Wednesday, June 15th at 10:00 a.m. central time for a fun LIVE quilting tutorial and learn about the new PFAFF® creative icon™ 2 sewing and embroidery machine. Radiating the warmth of summer, the Topaz Treasure quilt pattern will appeal to all the sun lovers out there. You'll learn a few tips and tricks for achieving perfect patchwork, plus a bit of advice when it comes to using new sewing machine technology. You'll also discover some great ideas for machine quilting and find out how to create a 'sparkling' quilt. Click here to download the free pattern!
This LIVE event is brought to you by PFAFF®
A new dimension of connection is here with the creative icon™ 2 sewing and embroidery machine. Discover world-first innovations like voice control and artificial intelligence enabling you to reach new levels of your craft. Plus, with a built-in projector and camera that displays your fabric directly on the machine's screen, sewing and embroidery perfection will be right at your fingertips.

3

Responses to "Topaz Treasure Sponsored by PFAFF"
Reply

Reply
Popular All LIVE Events videos
Explore videos by Colleen Tauke