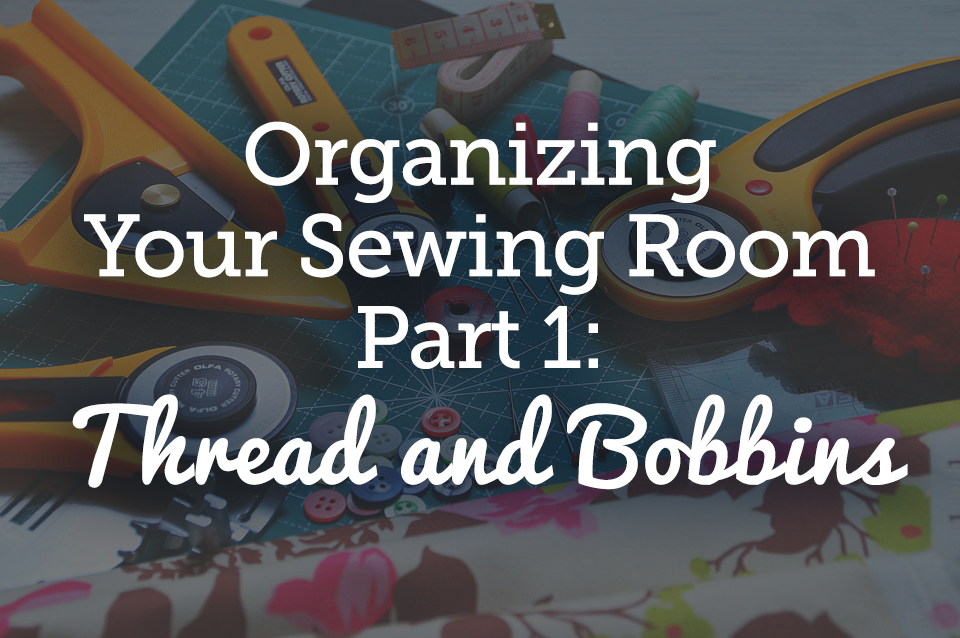 There I stood in front of my very-unorganized sewing room, staring off into a churning sea of fabric and threads. If I didn't do something quickly I was going to lose it – I was already having problems finding what I was looking for and my sanity could only hold out so long!
I'm sure many of you have had this same feeling when your sewing room is not as tidy as you'd like it to be (or in my case, chaotic!). You've probably wondered, "How do I even begin to organize this mess?" Well, have no fear. We're kicking off an article series all about tips for organizing your sewing room. We'll start first with one of the toughest contenders in the search for organization: thread.

My first step on my path to thread organization was first realizing I had a problem. I looked at the countertops in my sewing room and new immediately that thread was the obvious place to start. I had loads of ideas, but I wanted to wait and see what worked for the look I was going for. I spent a great deal of time on Pinterest and searching in magazines for ideas. These are always good places to start when getting the creative juices flowing and I recommend you try the same when looking for new ideas.
Sewing Room Organization: Bobbin Storage
I knew right away that I needed to do something with my bobbins; the tails were always flying and I was having constant trouble detangling. So here are a few ideas I came up with in the bobbin category. There are generally bobbin storage areas built into your sewing tables, so don't miss out on this storage opportunity if it's available to you.
Many manufacturers are now selling bobbins in already in containers for organization. The bobbins come in jars or trays that are already color-organized and on pre-wound bobbins to boot. Just be careful that the bobbins you order will fit your machine.
Sewing Room Organization: Thread Spool Storage
While this is a great option to store threads in a small area, I was just not impressed with the way it looked hanging on my wall. I still wanted something more aesthetically pleasing but equally functional.
Another easy option is using bookshelves. Lots of my friends store them in neat rows on bookshelves just like the quilt stores do. This wasn't the best option for me though as I find it hard to keep tidy.
This spice rack option has worked well for me – up until I began my thread addiction. I am currently having a carpenter rework my long arm room with wooden shelving units that will hold two cones deep and wrap around my room that houses the long arm machine. I'm very excited about this work – it's every girl's dream come true to have custom shelving built in the sewing room!
So now that you're armed with ideas, it's time to tackle your thread organization. Do you have different ideas that have worked for you? Share your techniques in the comments!
Happy quilting!
More in this Series:
Organizing Your Sewing Room Part 2: Fabric Organizing Your Sewing Room Part 3: Quilting Tools Organizing Your Sewing Room Part 4: Kits & Projects
Related Videos:
Choosing the Right Quilting Thread
How to Store Quilting Supplies
Get in touch! Leave a comment or email editor@nationalquilterscircle.com.