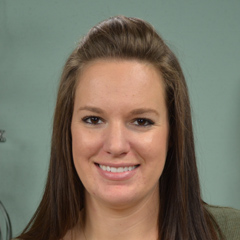 English Paper Piecing Class + DVD
Ashley Hough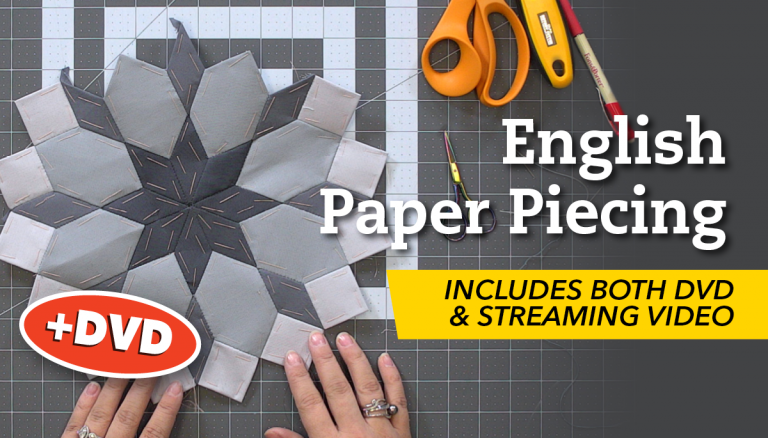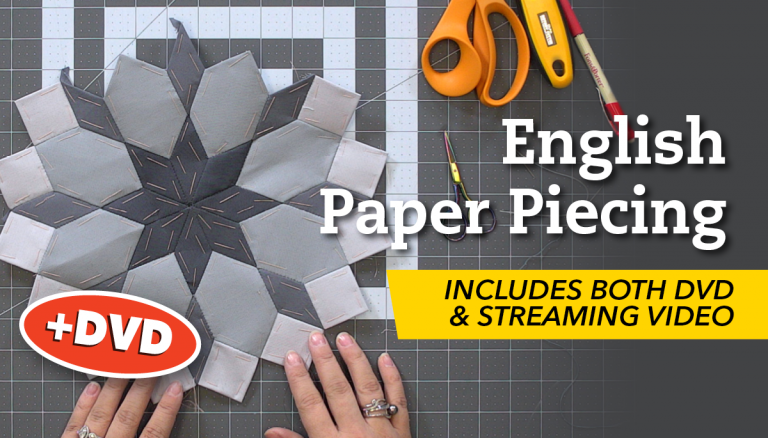 In-depth Instruction; over 72 mins
On-demand video access anytime
Bonus downloadable PDF resources
Access to class Q&A
Available for purchase: $34.99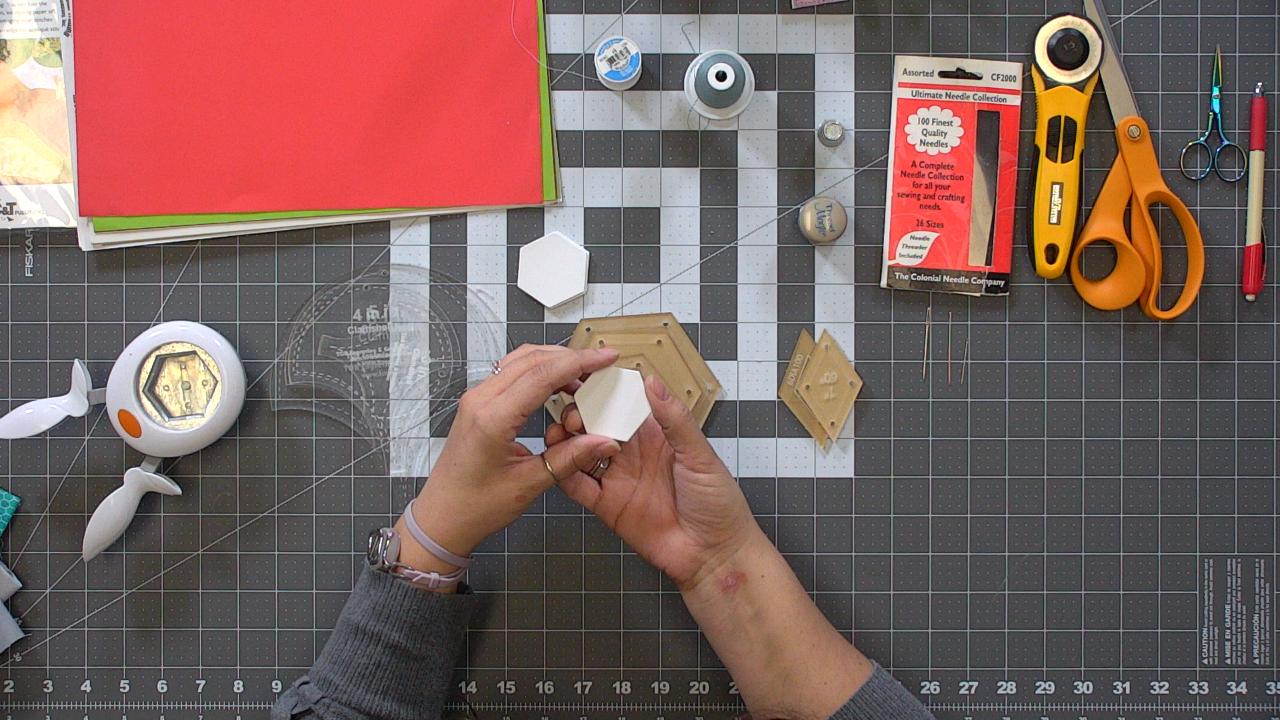 Session 1: Introduction
12:51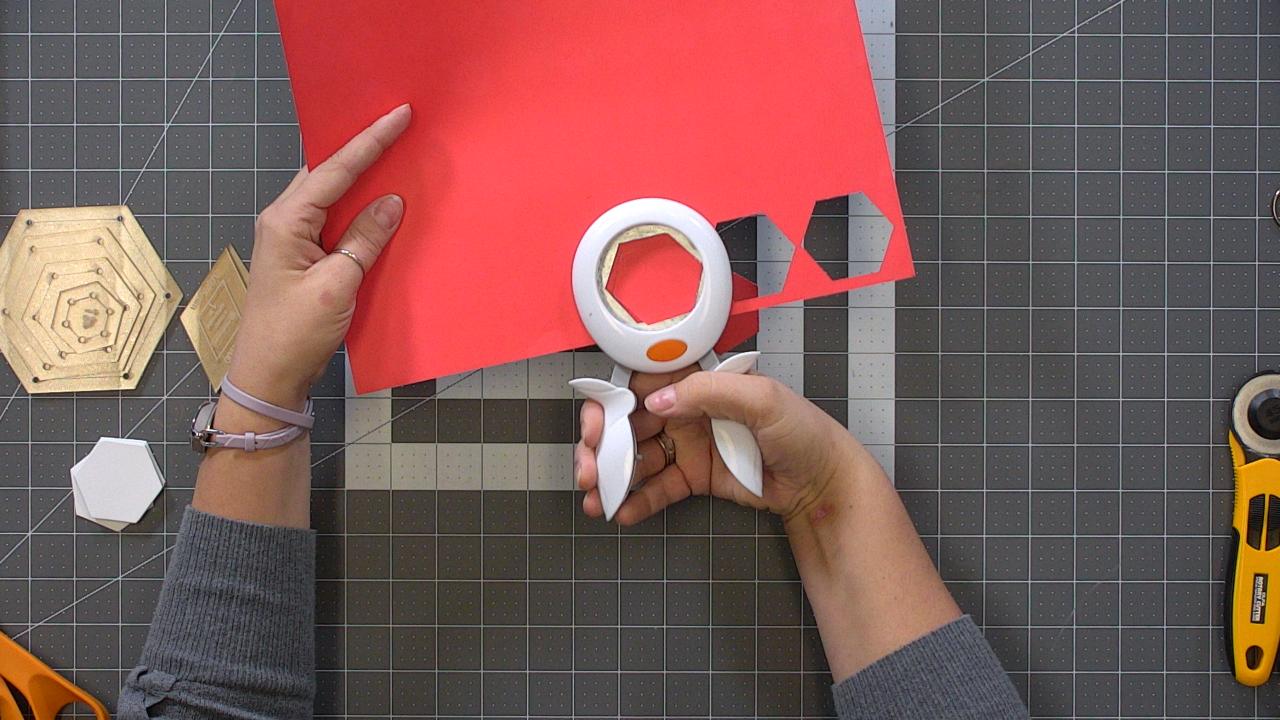 Session 2: Cut-out Templates
13:10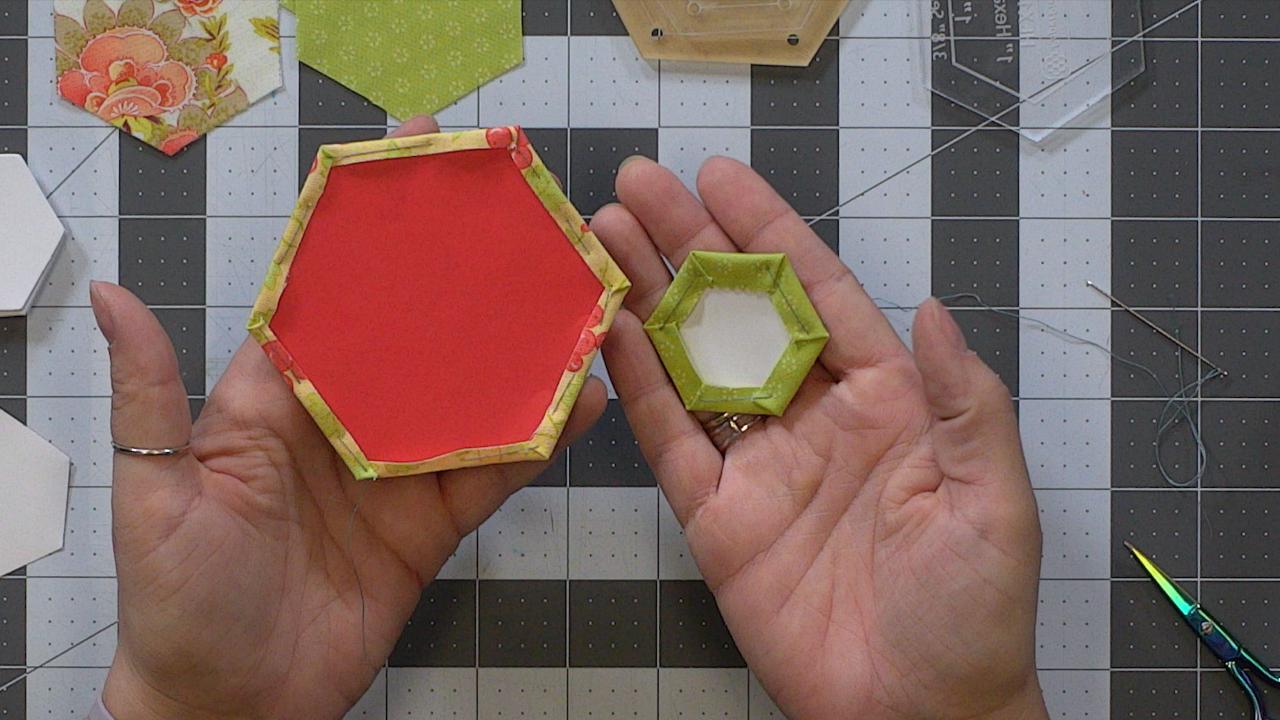 Session 3: Hexagons
11:45
Session 4: Clamshell
14:24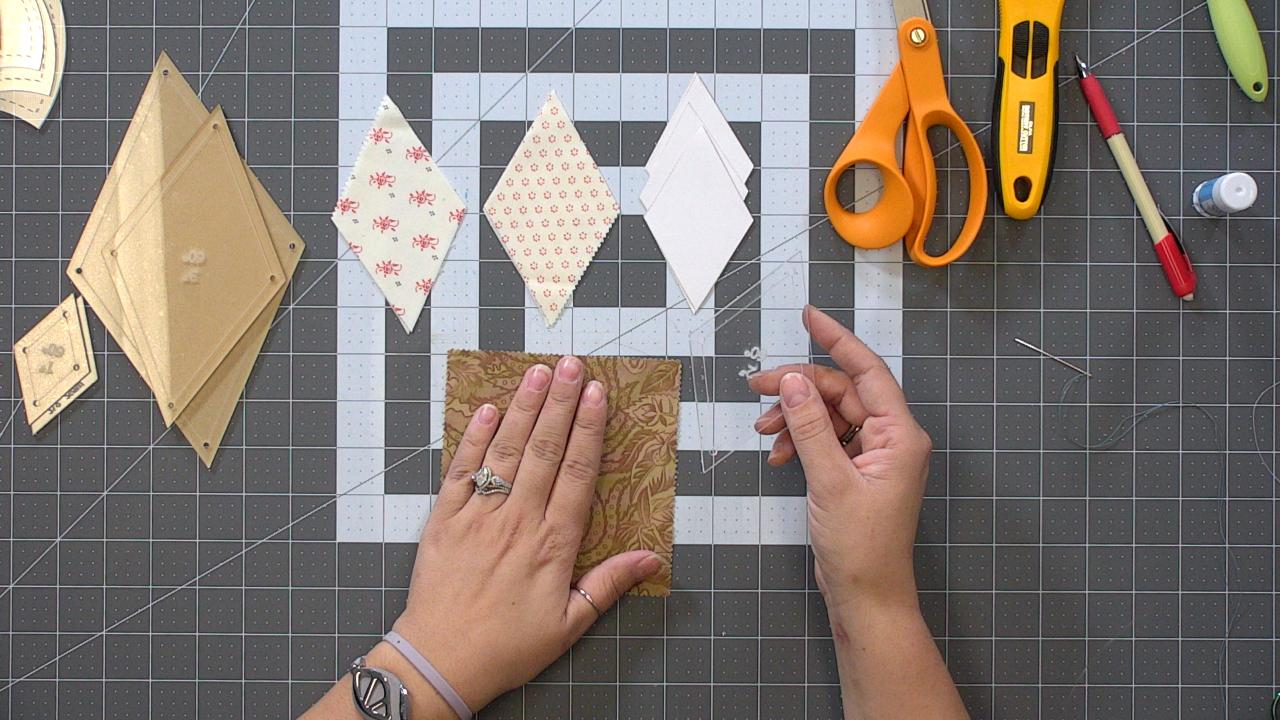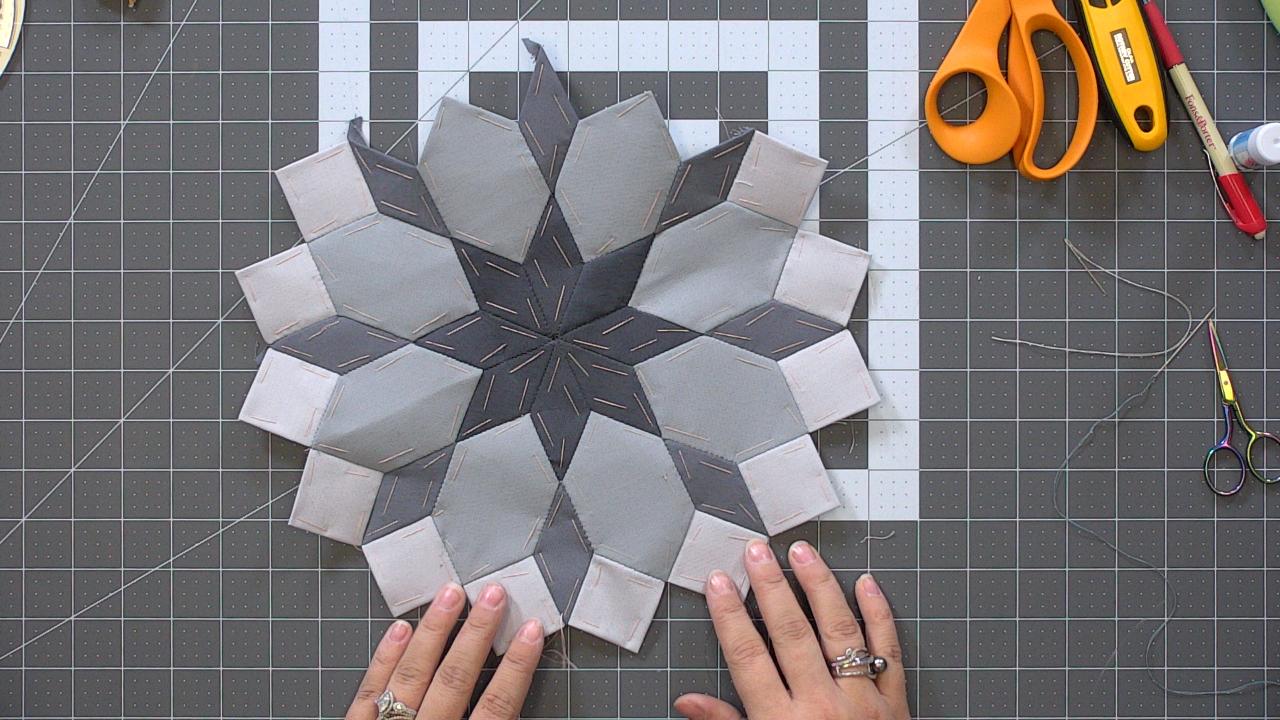 Session 6: Assembly
10:00
English paper piecing is a method of quilting that is done entirely by hand, making it a great project for quilting on the go.
Your instructor, Ashley Hough will show you all of the materials you will need for English paper piecing, including; fabric, a hand sewing needle and thread, and both paper and plastic templates- which will be used for cutting out the fabric.
This class will cover some of the most common shapes used when doing English paper piecing, including the hexagon, clamshell, and diamond. Ashley will show you how to cut out your fabric using a template and ensure that it is larger than the paper template that the fabric will be sewn to.
You will learn how to baste your fabric onto the paper using both a glue method and a hand sewing method. She will teach you how to baste different shapes, including those with straight edges, curves and sharp points. Once you learn how to baste your fabric shapes, you will be ready to assemble all of the pieces together and remove the paper. You can then practice your English paper piecing with a fun, easy pattern download.
NOTE: You'll receive this Class video instruction in two forms: As on-demand streaming video (in your NQC Account); and as a physical DVD, mailed to you.
Ashley Hough
Ashley has sewn for years. Her mother taught her at a very young age. When first starting out, she stuck to mastering commercial patterns before venturing into creating her own. Her patterns have been featured in Sew News, Sew It All, and she has even been on Sew It All TV. Quilting is somewhat new to Ashley, but she dove in head first – coming up with an original design for her first quilt that included curved seams and hand appliqué! She was even lucky enough to have it featured in one of Quilty's "This is My Quilt" episodes. Ashley loves all things crafty, from sewing to knitting, crochet to quilting, and everything in between. When she isn't working on a new project or learning a different technique she loves teaching her passion to others.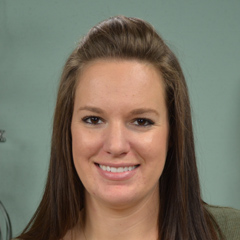 Bonus materials available after purchase
How do I know what the Class covers?
Do I have to be a Member of National Quilters Circle to purchase a Class?
How do I purchase a Class?
How do I access/view my Class?
Do I have to take the Class right away?
Is there a limit on the times I can view my Class?
Can I view a Class on my tablet device or mobile phone?
How do I get access to the Bonus Materials for the Class?
Can I print out Class details?
What are PDF downloads?
Are there any system requirements to view the Class video content?
Why do you need my email?
Can I get a refund if I don't like the Class?
How do I contact National Quilters Circle?
Purchase Class
Purchase class and add to your personal library with on-demand video access.
Enjoy on-demand video access to this content anytime, anywhere for the one-time cost below.
You won't lose access, with or without an active current Membership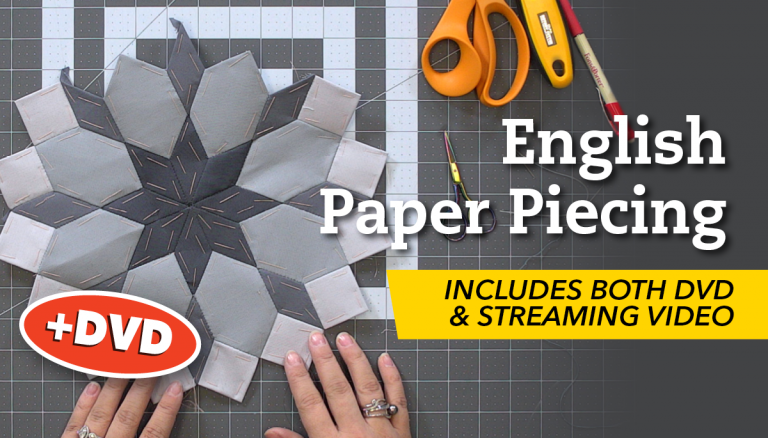 English Paper Piecing Class + DVD
with Ashley Hough
English Paper Piecing Class + DVD
Purchase this class for $34.99.