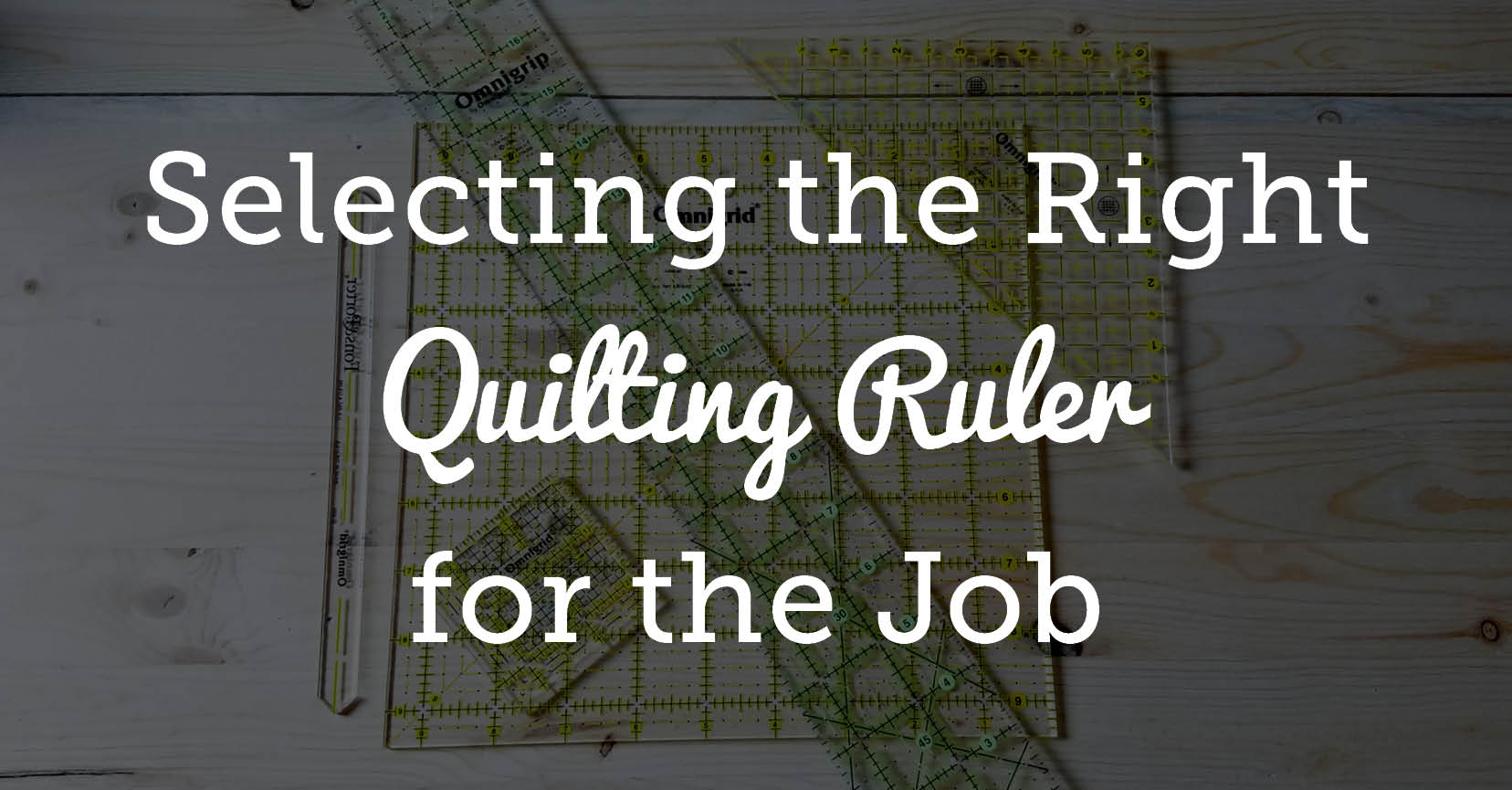 Precisely pieced historic quilts make it hard to believe that quilters from times past could achieve such accuracy with only cardboard templates and scissors. Since the invention of the rotary cutter in 1979, modern quilters have come to rely on special quilting rulers in their quest for piecing perfection. Rulers are available for every imaginable quilting need, so new quilters may wonder which rulers to buy first. There are specialty rulers for particular quilt designs, but every quilter needs standard rulers for two basic purposes:
Cutting quilt pieces to the correct size and on the straight grain of the fabric
Trimming blocks to the correct size before final assembly into a completed quilt top
This overview will help you with selecting the right quilting ruler.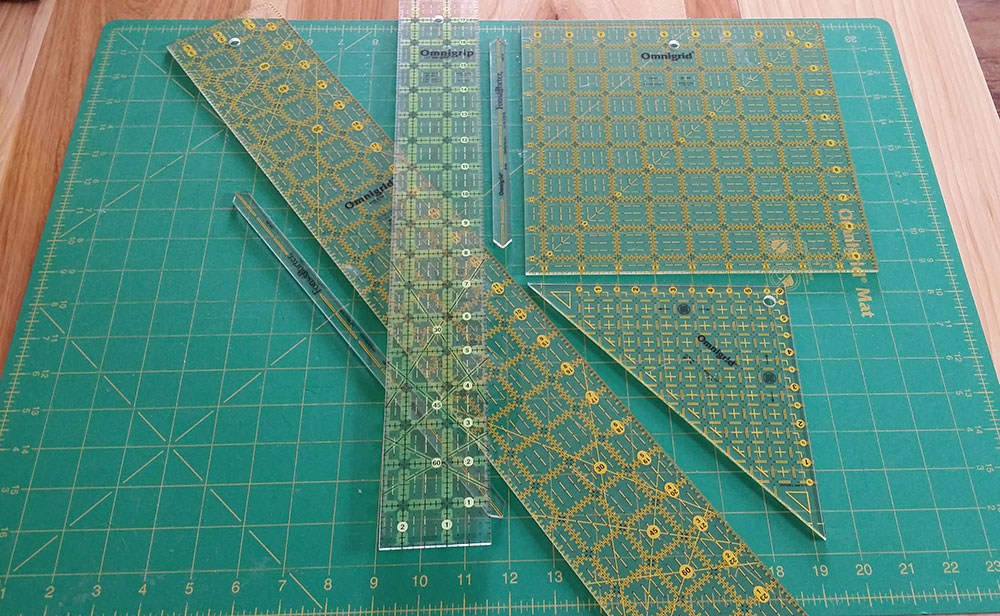 Rulers for Cutting Out Quilt Pieces
Most quilters buy fabric in yardage cut from the full width of a bolt (typically 45″ wide) or as fat quarters. A fat quarter contains the same number of square inches as a quarter yard cut along the full width of the bolt (9″ x approximately 45″). The fat quarter is cut from half the width of the bolt and measures 18″ x 22.5." When cutting squares or rectangles to make up a quilt block, you need to cut strips first, so you need a ruler that is at least 22.5″ long. This allows you to cut a single layer strip from a fat quarter, or a folded full width strip from a bolt. The best ruler for this is a 6″ or 6.5″ by 24″ ruler. If you find this large ruler unwieldy, and you buy mostly fat quarters, consider investing in a second rectangular ruler that is 4″ by 14″ in size. Related Video: Rotary Cutter Safety
Rulers for Trimming Quilt Blocks
It's always wise to check the dimensions of your blocks before you assemble them into rows for your quilt top. Some quilters check each seamed component of the block before final block assembly as well. Small errors add up across the width of a quilt, so it's best to catch and address them as early as possible. The blocks will be straight and flat and the points will match up if you check and trim your blocks carefully at every step. To check your blocks and trim away any excess, square rulers are best. If you make quilts with large blocks, invest first in a 12.5″ or 15.5″ square ruler. You can use a large ruler to square up and trim your smaller blocks, but some quilters like to keep an 8.5″ or 6.5″ square ruler on hand as well. Related Video: Using an Add-Enough Ruler
Ruler Accessories
The key to accurate cutting with a ruler and rotary cutter is keeping the ruler from moving during the cut. There are several ruler accessories available that can prevent your ruler from slipping while you cut. Rotary cutting and rulers are helpful, but arthritis makes it hard for some quilters. Consider an ergonomic rotary cutter or a gripper handle to minimize joint pain. It's important to protect the edges and corners of your rulers from cracks and chips. You can purchase tabletop or wall-mounted ruler racks, store them safely in a plastic bin, or make a hanging ruler rack from fabric. Put your rulers away at the end of every work session, and they will last you a lifetime. Related Video: Accessories for Quilting Rulers
Beyond the Basics: Specialty Rulers
Specialty rulers can help you create amazing new designs. When you are ready to move beyond the basics, consider adding some of these rulers to your collection:
Our quilting grandmothers would be jealous of the many rulers we have available today, but they are surely proud that quilting endures as a creative art.
If you're interested in learning more about quilting rulers and piecing methods, make sure to check out our in-depth series on Precision Quilt Piecing:
Precision Quilt Piecing Part 1: Squares
Precision Quilt Piecing Part 2: Half-Square Triangles
Precision Quilt Piecing Part 3: Quarter & Triple Triangle Squares
Precision Quilt Piecing Part 4: Flying Geese
Precision Quilt Piecing Part 5: Square in a Square
Precision Quilt Piecing Part 6: Triangle in a Square
Precision Quilt Piecing Part 7: Fancy Half-Square Triangle
Precision Quilt Piecing Part 8: Blocks and Borders


Have something to add? Leave a comment or email editor@nationalquilterscircle.com.