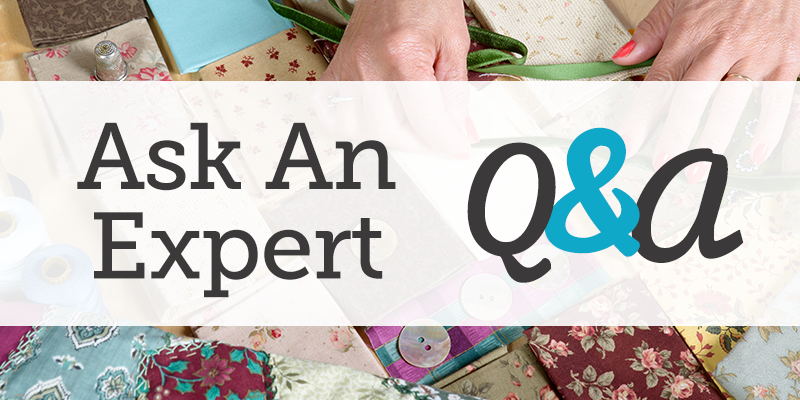 I think it would be a fun idea to make a quilt out of old blankets, but I read somewhere that maybe that's not the greatest idea. What do you think? Why wouldn't I want to do this? Or if I did… any idea where I should start?
Submitted via email

Reusing an old blanket for your quilt certainly embraces the "reduce, reuse, recycle" concept and hails back to the early days of quilting, too. Some of the most beloved surviving historic quilts feature pieces snipped from other fabric items like clothing, feed sacks, and home textiles. Reusing an old blanket by using it as the batting for a new quilt was another popular way to really make the most of available materials.
Doing this today continues the innovative spirit of our quilting forbearers – as long as you keep a few caveats in mind:
An old wool blanket that still has plenty of warmth to offer but is truly showing its age can be used as batting if you wash it first. Exposing it to hot water in a modern, agitating washer is the best way to be sure that the blanket won't shrink later.
If you use the entire blanket as a batting layer or even use choice pieces as applique or decorative elements and then wash your finished quilt, you could end up with a disaster when the pieces shrink at different rates. By washing the blanket first, you preshrink it and set the color, just like you do with new quilter's cottons.
Any recycled fabrics you incorporate into your work need to be free of damage or pests. If your blanket is wool, it could be harboring moths or larvae – enough to damage your piece later. Again, a wash in hot water can set your mind at ease and eliminate this risk as well.
We'd love to know – how have you incorporated vintage linens and blankets into your new quilting projects?
Happy quilting!
Samantha
Related Video: Quilting with Alternative Fabric
Do you have a quilting question you'd like answered by an expert? Email your question to editor@nationalquilterscircle.com or reach out to us on Facebook.
Please note: questions may be edited for clarity and relevance.