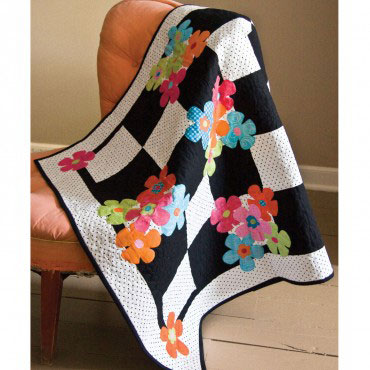 If you love applique but not all the detailed cutting that typically comes with this quilter's favorite, prepare to be pleased. The new GO! Funky Flowers Fabric Die lets you create a visual masterpiece in a mere fraction of the time you'd spend chained to your scissors. Even the most experienced quilter who can strip cut fabric in a flash will appreciate the GO! Funky Flowers Die that makes cutting curves and angles a snap.
And once you've made quick work of cutting 29 flowers out of your favorite colorful fabrics, use them to make the gorgeous GO! Funky Quilt Pattern from AccuQuilt. Create a perfect piece of wall art for your favorite tween, or use pastels to whip up a whimsical baby quilt just in time for the shower.
Quick, Easy Cuts Make the Quilt
The GO! Funky Flowers quilt makes use of strip, square, and flower dies. There's no need to lug out the rotary cutter and straight edge, when you can use your GO! Strip Cutters to cut 1½-, 2½-, and 3½-inch strips, as well as 6½-inch squares. GO! Dies make cutting and piecing even the most intricate quilt patterns fun and easy. Even complicated shapes and angles are no match for easy-to-use GO! Fabric Dies.
It Only Looks Complicated
The GO! Funky Quilt may look like a time-consuming endeavor, but it goes together quick and easy using all the convenient tools available from the GO! line of quilting products. Simply cut 25 squares of alternating fabrics, and stitch them together to form a checkerboard pattern. Add borders and edging. Then position and apply your applique flower pieces in clusters of five with single blooms positioned at each corner. Use fusible webbing to attach blossoms to quilt top, and tack in place using your favorite applique stitch. It's a quilt top you can easily complete in a day or a weekend, depending upon your skill level and dedication, but the person who receives this heirloom gift will think it took much longer.
You can download your free pattern for the GO! Funky Flowers Quilt thanks to our friends at AccuQuilt! Happy quilting!