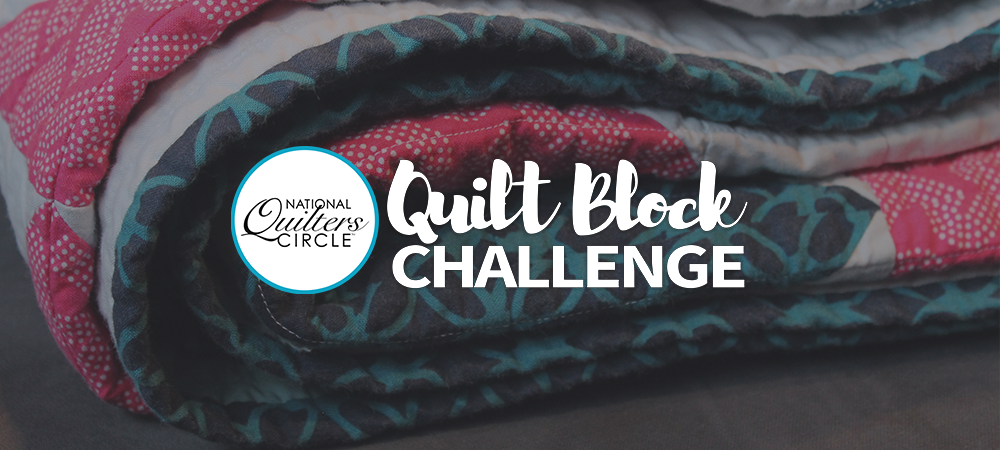 We have a lot to be excited about over at National Quilters Circle. For one thing, we just started our first ever quilt block challenge! Over the course of nine weeks, we'll be creating nine unique quilt blocks to create one beautiful quilt together. Another thing we're excited about? Teaming up with the wonderful and talented Andrea Smith of Happy Cloud Creations to make our quilt block challenge dreams a reality!
Among her many talents, Andrea designed the Snowy Day Quilt Block Sampler that is our featured design for the Quilt Block Challenge. Before things officially kick off with the challenge next week, we wanted to sit down with Andrea to learn more about what makes her tick (or rather, stitch!).
If you haven't signed up for the Quilt Block Challenge, there's still time! You can sign up here to make sure you get the block assignments delivered to your inbox each week. And make sure to visit Andrea on Facebook, Instagram, and Etsy to see more of her beautiful work!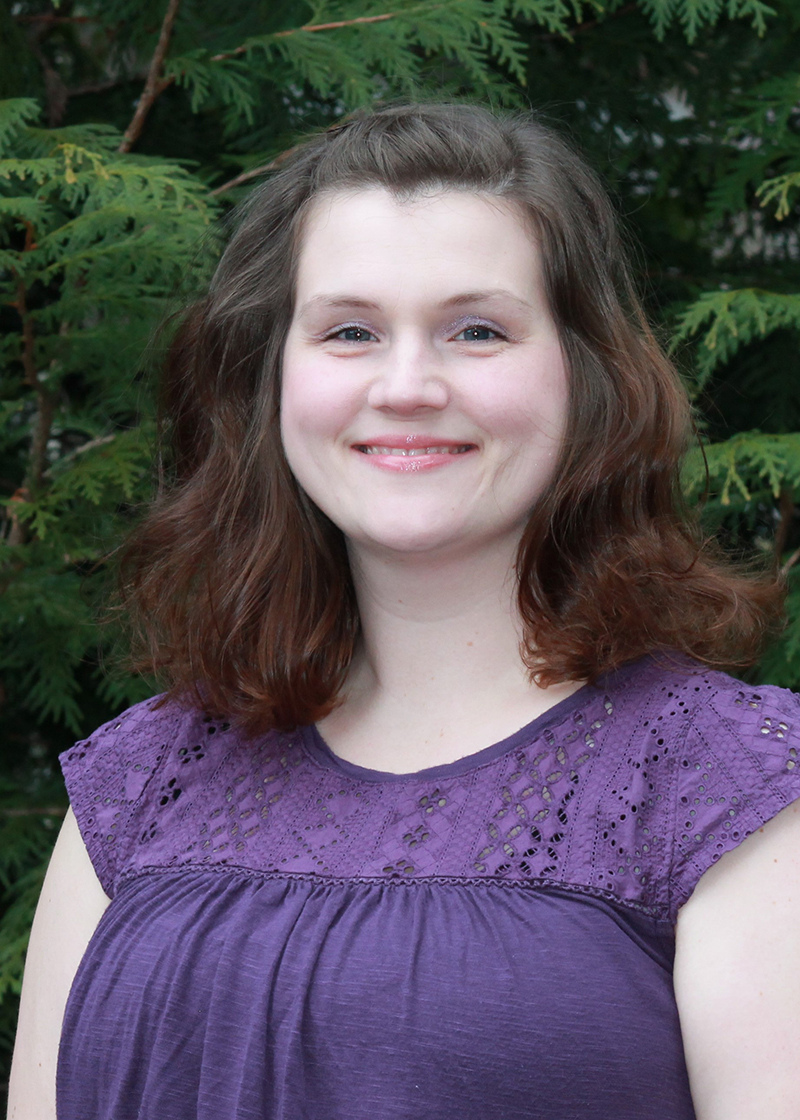 National Quilters Circle: How long have you been quilting, and who taught you how to quilt?
Andrea Smith: I've been quilting for about 20 years. My mom taught me how to sew when I was a little girl. The first things I made were a pillow, blanket, and some clothes for my Barbie Dolls. I saw a quilt my mom made with fabric scraps she had from clothes she had made. I thought that was so cool, I wanted to make one too. My sister had a sewing class in high school and she taught me some of the quilting basics she learned.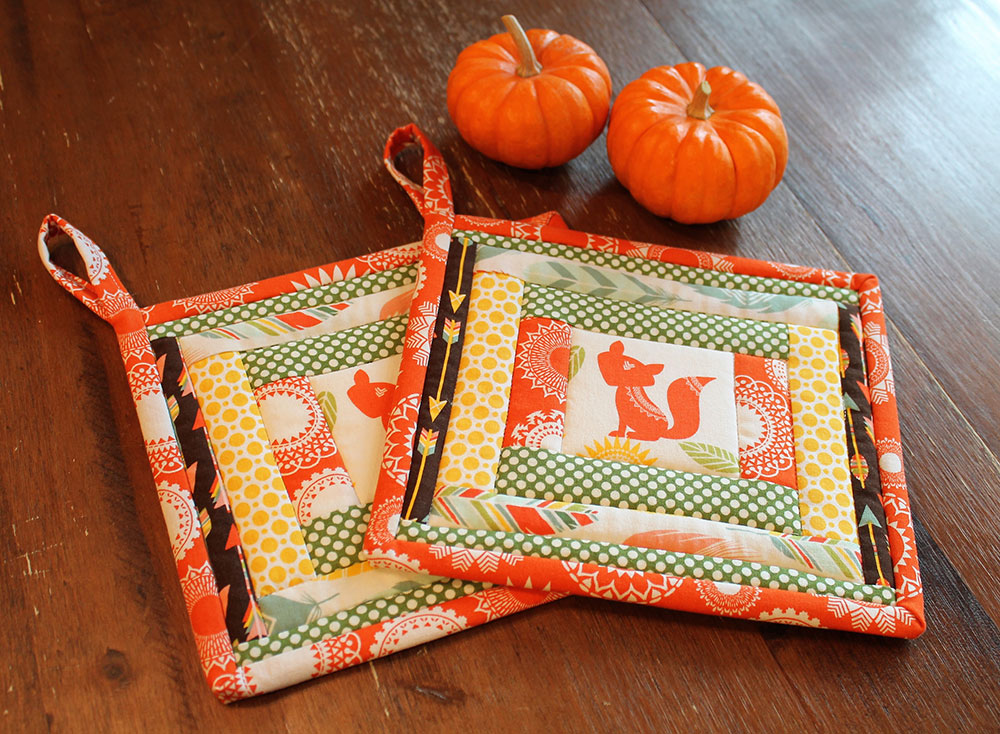 Pot holders designed by Andrea. See more designs here.
NQC: What was your first quilting project?
AS: I made my very first quilt when I was around 13. I made it with flannel scraps my mom had left over. I would sit and watch TV and hand sew little squares together to make blocks. My mom saw me doing this and said I could sew the blocks together on her sewing machine. The quilt was hand tied with yarn and the edges were folded under and sewn close to the seam.
All About Arrows Quilt designed by Andrea. Get the pattern here.
NQC: Tell us about Happy Cloud Creations – how long has it been around and what do you make?
AS: I opened up my online shop in 2011 when I became a stay-at-home mom. I make a variety of handmade items. I specialize in Quilts, Pot Holders, Table Runners, Place Mats, Coffee Cozies, hand knit Dish Cloths and Quilt Patterns. I'm currently knitting some infinity scarfs that I will add to my shop soon.
NQC: Is there a story behind the name, Happy Cloud Creations?
AS: After I became a stay-at-home mom, I thought it would be fun to sell all the items that I loved to create. I was trying to think of a creative name and my son Cloud received a cute wooden Cloud with a smile on it made by his cousin. We called it his Happy Cloud. I thought that would make a cute name.
Strawberry-themed table runner designed by Andrea.
NQC: What do you like to do when you're not quilting?
AS: I usually quilt at night after my kids go to bed. So when I'm not quilting I like to draw up new quilt designs in my graph paper notebook. I also like to knit while watching TV.
NQC: What are you currently working on?
AS: I currently have a stack of WIP I should be working on. I'm excited to finish my daughter's twin size Swoon quilt. I am also in the process of writing up two new quick and easy quilt patterns.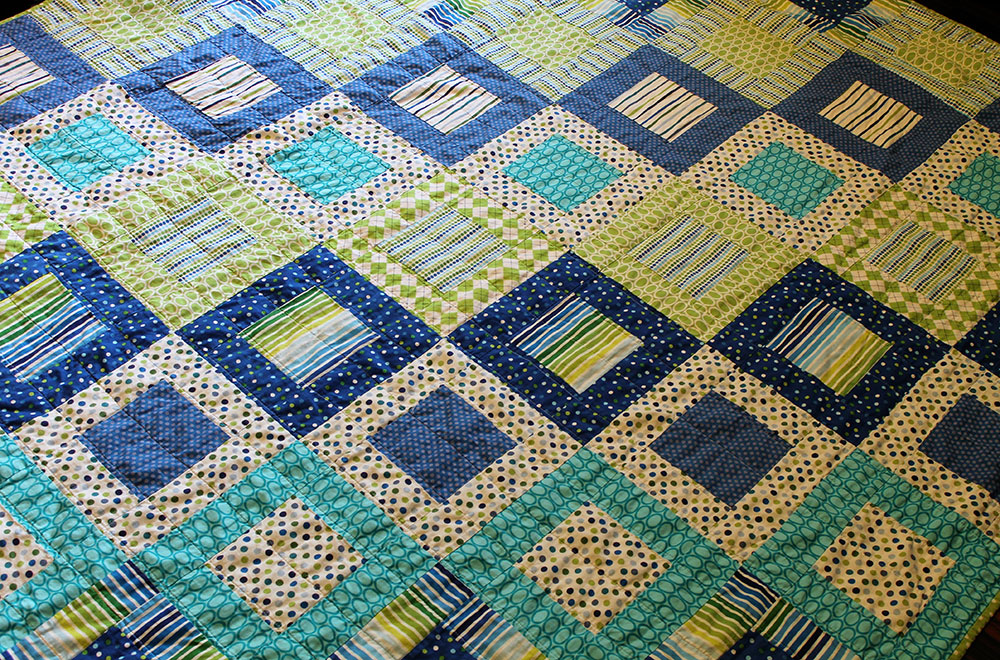 A twin-size quilt for Andrea's son, Cloud.
NQC: What project have you been most proud of?
AS: I'd say I'm most proud of finishing my son's twin size quilt. It's nothing fancy, but it took me a while to finish. Between working full time and having a new baby, it ended up taking a couple years to finally finish. Now he has a quilt he can keep forever that will always remind him of me.
X Marks the Spot Quilt designed by Andrea. Get the pattern here.
NQC: What kind of sewing machine do you have?
AS: I have a Janome New Home HD-1000. I've always sewn on a mechanical machine, so when I was purchasing this one I was too nervous to change to a computerized. Next time I purchase a sewing machine I would like to buy one that specializes in quilting and has a large throat.
Andrea's sewing space, where the magic happens.
NQC: What's your sewing space like?
AS: I live in a fairly small house, so I sew on my dining room table. I store all my supplies in totes in my family room. This is one of the reasons I tend to only sew when my children are sleeping.
NQC: If you could create your dream quilting space, what would it be like?
AS: It would be nice to have a room dedicated to crafting. It would have a large table, a nice sewing desk, and plenty of storage space for all my wonderful fabric. Just being able to leave my sewing machine set up and my current project laid out would be a great thing.
Stepping Stone baby quilt designed by Andrea. Get the pattern here.
NQC: What's your favorite type of fabric to work with?
AS: I'm all about quilter's cotton. I'm not partial to one designer or manufacturer. I love vibrant colors, beautiful florals, and dots.
NQC: What would you say to someone who's just getting started in quilting?
AS : I know a lot of people are nervous to try their first quilt. It doesn't hurt to try! If you can sew a straight line and press seams, I'm sure you can put a quilt together. Once you try making your first quilt, you won't want to stop. Start with an easy pattern and don't worry about it being perfect. Quilts are your work of art and works of art are not perfect. You will love it, snuggle in it, and it will bring you happiness!