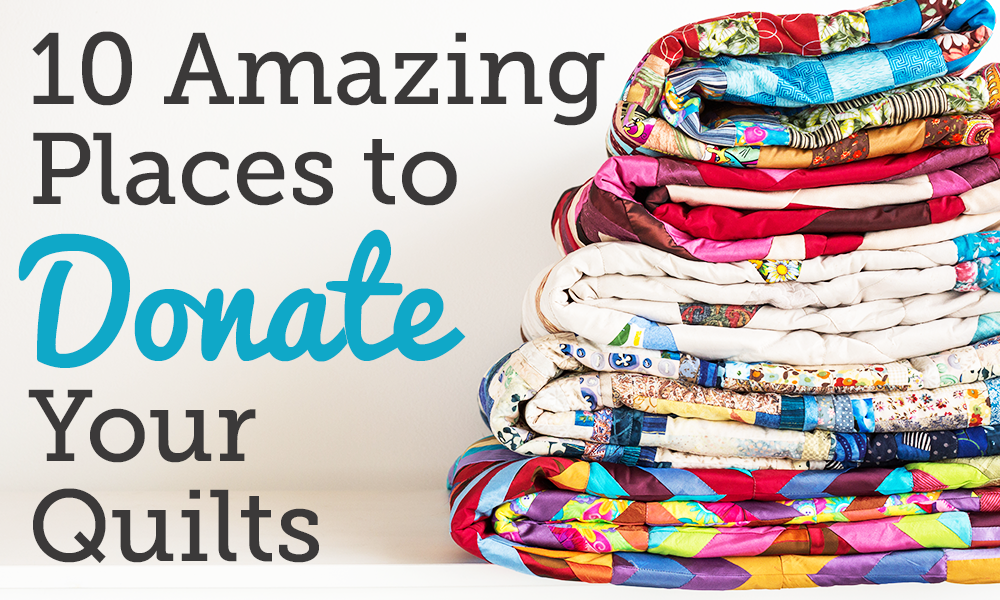 When it comes to quilting, many people don't realize we aren't always quilting for ourselves. A lot of time, effort, and love are put into quilts, and it's incredibly satisfying to give one as a gift. It's like you're sharing a piece of yourself! Though it's easy to opt for gifting quilts to family members, many of us like to donate quilts to charities and give something back to the community.
But how do you know where to donate quilts? There are a variety of options, and it can take a little research. Luckily, we've compiled a list of 10 amazing places for you to donate your quilts! Whether you'd like to donate to veterans, children or hospitals, we've got a few options for you to choose from.
Donate Quilts to Veterans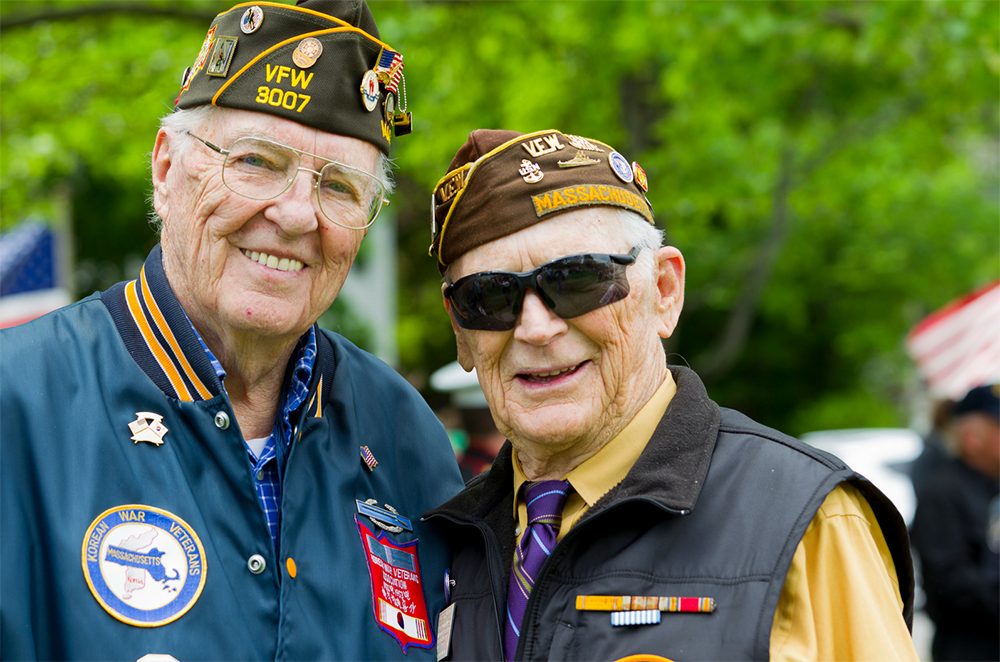 Quilts of Valor is dedicated to creating and distributing quality quilts to veterans. Catherine Roberts, founder of Quilts of Valor, began the organization after her son was deployed in Iraq. She had one basic principle: quilts = healing. Quilts of Valor has specific requirements for their donations, as they pride themselves on quality and durability. Find their quilting requirements here, and learn more about the organization here.
Gail Belmont, creator of Quilts of Honor, is a Vietnam era veteran who has been playing Taps at military funerals since 1969. To ensure that no warrior would be forgotten she began Quilts of Honor. Additionally, Quilts of Honor was asked to by the Navy Seals to make a "Presidential Quilt" in 2007 for President Bush. It was installed in the "9/11 Memorial Display Case" that Fall. Quilts of Honor has chapters nationwide, and like Quilts of Valor, has special requirements for their quilts. Find their quilting requirements here, and learn more about the organization here.
Donate Quilts to Children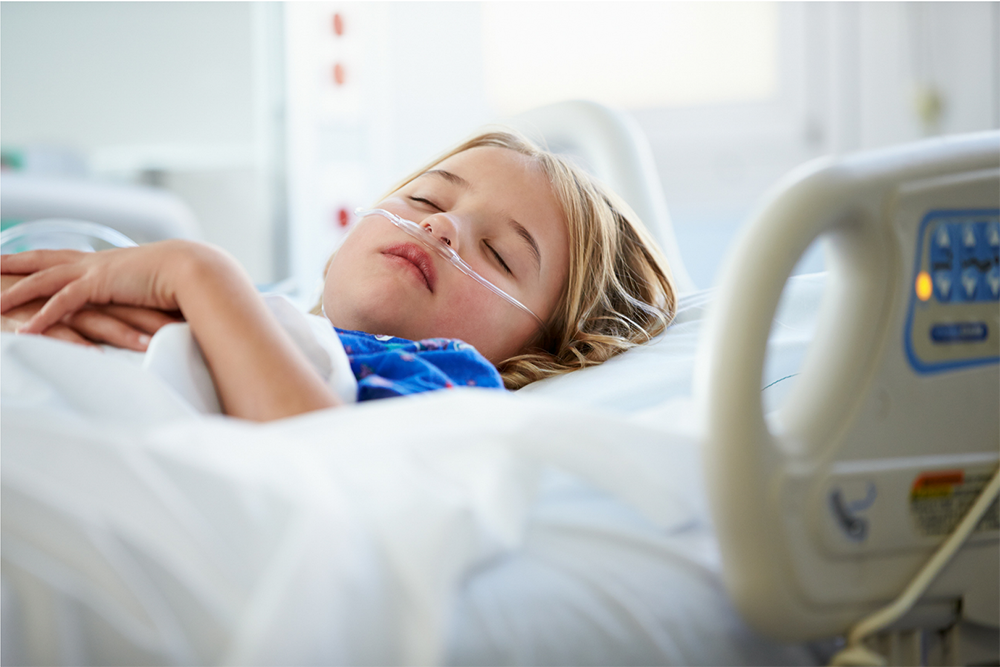 Project Linus (yes, it is in fact named for the popular Peanuts character) aims to provide love and security for seriously ill, or children in need. Many children find comfort in a 'blankie', and Project Linus delivers them to hospitals, shelters, social service agencies, or anywhere else love is needed. You can find Project Linus chapters in all 50 states and find the location nearest you on their FAQ page. Learn more about donating quilts here, and learn more about the organization here.
Quilts for Kids was founded by Linda Arye, a quilter who saw the waste of discontinued fabric samples being sent to landfills. She decided to start a charity to save that perfectly good fabric from the garbage, and create it into something beautiful. Quilts for Kids has saved millions of pounds of fabric and donates roughly 30,000 quilts yearly. You can request a pre-made quilting kit from them, and only need to pay for the shipping ($6.00)! Learn more about the organization here or request a kit here.
Wrap Them in Love distributes donated quilts to children around the world. In 1980, founder Ellen Sime, adopted two children from Korea. While waiting for her adopted children, Ellen thought "Was someone holding her when she cried? Was he fed and taken care of properly? Did someone hug him?" So she began Wrap Them in Love, to send love and hugs around the world for children who need them. Learn more about the organization here.
Quilts Beyond Borders provides quilts to orphans around the world. Originally, Quilts Beyond Borders focused on Ethiopia, but has now expanded to spreading love and hope to 25 other countries. Currently, Quilts Beyond Borders is focusing on Syrian refugees, and children living in the Navajo Nation. Learn more about their quilting criteria here and more about the organization here.
Ronald McDonald House Charities
The Ronald McDonald House supports children and their families while their children receive medical care. The work to keep parents close to their hospitalized child, and provide safe spaces and experiences for patients and their families. Every child who checks into the Ronald McDonald House of Rochester, Minnesota, receives a handmade blanket to keep. They accept fleece blankets and quilts. Learn more about donating quilts to RMH.
Other Places to Donate Quilts
Created in memoriam of Victoria Morrison, Victoria's Quilts aims to provide comfort to cancer patients. Deborah Rogers (Victoria's sister-in-law) remembered how cold Victoria was during her chemotherapy treatments. She hopes these quilts will help cancer patients be able to feel a little more comfortable. Victoria Morrison was an avid quilter herself, and helped Deborah start her quilting journey. She honors her memory by helping others with the love and warmth of quilts. Learn more about the organization here.
Hopes and Dreams Quilt Challenge for ALS
Hopes and Dreams is not an open quilt donation organization, but they host quilting challenges for ALS patients and donate to ALS research. Participants vote on the best quilts of each challenge, and winners are eligible for some great prizes! If you are interested in participating in an ALS quilt challenge, you can learn more here.
The Giving Quilt is an organization that distributes to all kinds of non-profit agencies. This ranges from children's hospitals, neonatal units, military organizations, and many more. You can donate a quilt at any time, or take part in their sponsored sew days and biennial quilt show.
In addition to the organizations provided, you can always research where to donate quilts locally. Depending on your area, you may be able to donate quilts to senior centers, homeless shelters, churches, animal shelters, and hospitals! So get quilting and start spreading the love.
Have something to add? Leave a comment or email editor@nationalquilterscircle.com.