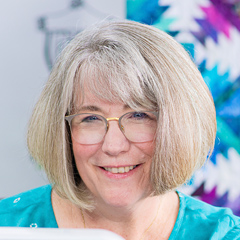 Loading & Quilting with the Cutie Tabletop Fabric Frame
Colleen Tauke
Creating patchwork is the first area of quilting we encounter as we learn the process. Next comes quilting the quilt, but where do we start? And once you have started, you find dragging the entire quilt "sandwich" through your domestic machine more of a chore than you realized. What are the options available? Do we limit the size of our projects? Do we change techniques? Should we send our quilts out to be longarm quilted? If you love the look of machine quilting flowing across your quilts, how can you accomplish that with just a small investment?
The Grace Company has created the Cutie Tabletop Fabric Frame for just that reason. They considered space, flexibility, ease of use, and our budgets. Many of us live in modest homes and may not have the ability or space to dedicate a large room to a quilting frame. Also, many of us have more modest incomes and live accordingly. We crave the ease and flow of manipulating the needle across our quilts, creating those beautiful curves we see stitched across award-winning quilts. The Cutie frame is just the thing. It's a smaller investment compared to the 12-foot-long pricey machines, so we can wade into machine quilting and enjoy the fluid reach of our machine.
The Cutie frame can easily be set up on a table or counter when tackling a quilting project. After you take the final stitch, your sewing machine can be taken back to its place in your studio and the frame can be slightly collapsed for storage in a spare room or closet.
Colleen Tauke will walk you through the preparations of your quilt sandwich and loading the Cutie tabletop frame. You will see how a quilt can quickly be positioned for quilting in sections and then moved to continue the process of machine quilting. The roller system that your domestic machine is placed upon, provides that flowing movement that upgrades your machine quilting for perfect curves. Quilting with a domestic sewing machine and the Cutie table-top frame may be just what you are looking for, quilting with ease.
Learn more about quilting by following links. Investigate different types of quilt batting, and see how to use tear away quilting designs from Urban Designs while learning new stitch patterns. We also provide a great video that showcases longarm type quilting samples for you to begin practicing and sharpen those machine quilting skills.
4

Responses to "Loading & Quilting with the Cutie Tabletop Fabric Frame"
Reply
Popular All Quilting Videos videos
Explore videos by Colleen Tauke