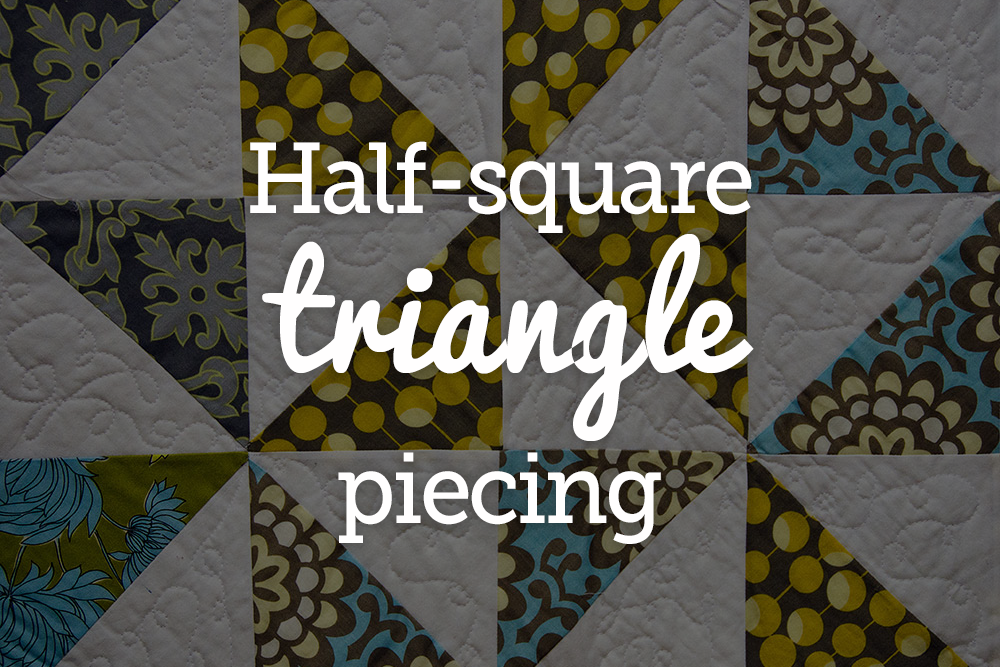 If you're tired of following someone else's patterns and are ready to get creative with your quilt designs, half-square triangles are the perfect way to start. Using these simple two-piece blocks, you can create hundreds of different quilt top designs, from simple pinwheels to intricate portraits. Half-square triangles are the most versatile of all the basic quilt blocks. Using chain piecing methods, you can create dozens of basic blocks per hour, giving you the raw materials for creating your own artisan quilt tops.
What Are Half-Square Triangles?
This odd name describes a basic quilt block made up of two triangles, one light and one dark, sewn together so they create a square with a diagonal line from corner to corner. They give visual excitement to quilts because of the angles they create when pieced together in rows. This versatile design can make up any number of shapes on the quilt top, depending on which way you place the light and dark halves of the block.
Simple Half-Square Triangle Piecing
Traditional quilters used to cut out individual triangles to sew together, but you'll save a lot of time using speed-piecing techniques. Here's an easy way to do it: 1. Cut out squares of light and dark fabrics and pair them up, right sides together. 2. Draw a diagonal line from one corner to the other on the wrong side of the light material. 3. Sew ¼ inch away from this line, with one seam on each side. 4. Cut along this marked line, then open up each sewn triangle to find a perfect half-square triangle.

If you'd like to try a different method, check out this article for a detailed explanation.
Simple Quilt Top Patterns
This block is so versatile it's almost impossible to make the same quilt top twice, and why would you want to? With this many possibilities, it's hard to decide which one you want to make first. Some of the simplest patterns you can make are perfect for beginners, or for when you want to make a simple quilt as a gift. (Baby quilts, anyone?) Simple doesn't always have to look plain though. Here are some ideas to spice up your designs:
Bright pinwheels on a white or black background can take on many feelings, depending on the fabrics
Twist and turn the colored fabrics to create a multitude of star patterns
Entire tops of half-square triangle rows can look elegant and modern when you show off beautiful fabrics
Use this block to imitate the dozens of patterns usually made with log cabin blocks (it's the same basic visual design, just much simpler to make)
Half-square triangles are probably the most useful block a quilt designer can use. Get a pad of graph paper and some colored pencils and let your imagination soar. You'll be surprised by the intricate designs you can make with one simple block. Have something to add? Leave a comment or connect with us on Facebook.