We all have unique experiences when we're quilting and we often find ourselves feeling certain emotions as we work. Each day is different and we quilt for many different reasons, but most of us can agree that quilting brings out the best in us!
Everyone has a different reason for quilting. Some of us quilt to make gifts, some of us quilt to relax, and most of us quilt because we just love to do it! In order to find out more, we asked our team of instructors to share some thoughts about how quilting impacts their lives and influences their emotions.
What about you? Let us know how quilting makes you feel in the comments.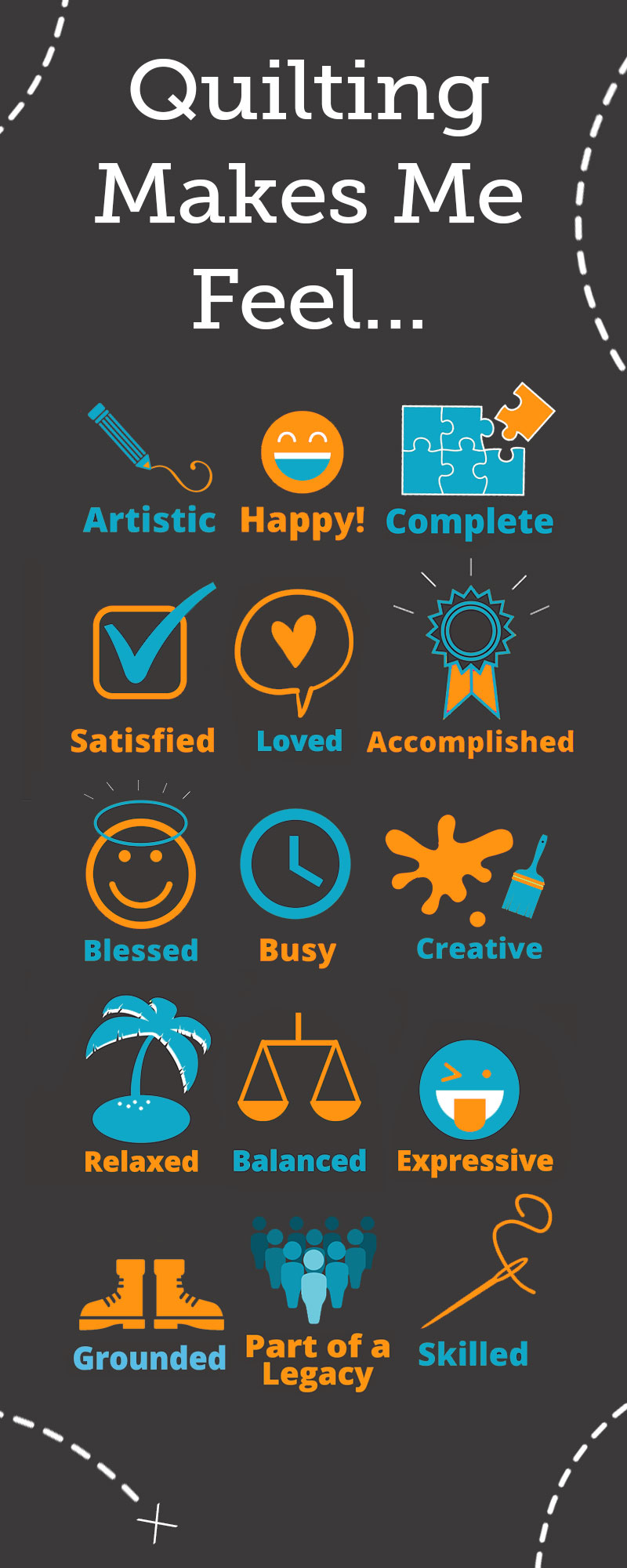 "Quilting is such a blessing in my life. It affords me the opportunity to be with like-minded people. Together we share experiences, quilts, and the joy quilting brings. I truly believe quilters are the best people around! I'm also blessed in that my career as a home sewer and pattern tester for various fabric companies brings me gorgeous fabrics and interesting patterns to play with. In fact, I love the act and art of quilting so much that when I'm not quilting for hire, I'm quilting for fun!
Quilting is a great way to relax and my favorite part of the process is the actual quilting of the quilt. I sit in front of my machine and let my mind wander in a zen garden while my hands move the fabric back and forth under the needle. Then again, nothing is more relaxing in the evening than hand stitching the binding to the quilt with a cup of tea by my side (I'm very careful not to spill) and a favorite program on the television. I'm not as fond of some aspects (quilting-cutting for example) but the good outweighs the bad because I'm still quilting and don't plan to stop anytime soon!"
– Peg Spradlin
"I have always loved to sew, and thoroughly enjoy the hunt for the perfect fabric combination and new project idea. Throughout my Air Force career and worldwide assignments, I was always creating home decor projects for each new temporary home. While stationed in Little Rock, Arkansas, a fellow female officer introduced me to the world of quilting, and a new passion was born. After retiring, I became a professional longarm quilter, designer, and teacher. I love to share my passion with others and spark their creativity. Perhaps my greatest joy is when clients see their finished quilt for the first time—their smile and look of amazement is priceless!"
– ZJ Humbach
"Most of the quilters I know quilt for fun, to keep busy, or as a way to let their creative juices flow. Those are great reasons to quilt and also apply to me, but I'm unique in my circle of quilt friends in that I'm also a home sewer/pattern tester/quilter for hire. It's very satisfying to be able to play with beautiful fabrics (gorgeous fabrics are in the top five reasons I quilt) and try out interesting and challenging patterns and techniques, and get paid for doing so!"
– Ashley Hough
How does quilting make you feel? Happy? Relaxed? Accomplished? Leave a comment below and share what you feel when you sit down to quilt!