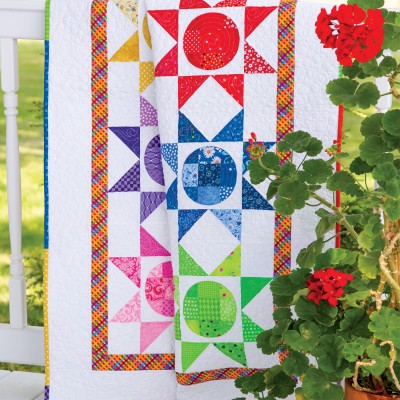 While most people think that artwork involves paper, paint, or chalk, quilters are quite certain that fabric should be included in the list of media. After all, fabric allows one just as much creative expression as other more traditional forms of art. In fact, for centuries, quilting was one of the few forms of artwork that women of all walks of life were able to enjoy together, allowing wealthy and poor women alike the joy and freedom of self-expression. A single quilting pattern can be sewn in countless ways, allowing each quilter to express her own personal taste in her selection of fabrics and colors.
Here at National Quilters Circle, one of our partners, AccuQuilt.com, is allowing us to feature some of their quilt patterns on our website. These quilt patterns can inspire your own creative quilting. To kick things off, AccuQuilt is sharing with our readers the GO! Starstruck Throw quilt pattern. This lovely star quilt pattern can be stitched by hand or by machine and features applique as well as traditional piecing. Even novice quilters will be able to easily put together this lovely quilted throw.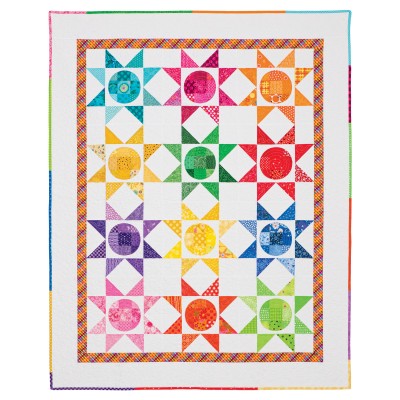 The GO! Starstruck throw is the perfect way to use up your scrappy stash. It uses scraps that range in size from 3¼ inches to 4¼ inches in a wide variety of hues. While the AccuQuilt designers chose twelve different, bold colors for each block, most quilters can't help tweaking pattern and color selections to make each quilt their own unique statement. While bold, primary colors may be perfect for some people's tastes, these blocks could easily be remade in any combination of colors. The AccuQuilt designers chose to use white to offset the bright colors of the original quilt. However, choosing black as a contrast would really make the colors pop.
A quick note on cutting: AccuQuilt recommends that quilters use a fabric cutting device like the GO! Fabric Cutter for this pattern. You can cut these pieces for this wonderful star quilt pattern by hand if you really want to, but if you are an avid quilter, a fabric cutter can do away with the tedium of cutting quilt pieces.
The GO! Starstruck quilted throw takes advantage of color families. You can use up to seventeen different fabrics from the same color family for each block. The center of each block is made of a solid color, and appliqued onto the center block is a circle. The circle itself is pieced together from nine different blocks before being cut into shape and sewn to the center block. (Don't panic if you are a beginner! This star quilt pattern uses fusible web and a machine satin stitch for the applique.) To this center block, flying geese units are stitched to create a star configuration. Each completed block will be twelve inches square.
When all of the twelve inch blocks are completed and stitched together, you can add an interior border two inches across. The AccuQuilt designer chose a lovely plaid, but any multi-colored fabric that coordinates with your overall color theme will work on this pattern. To the interior border, a four inch exterior border of the same solid that was used for the pieced blocks sets off the entire quilt nicely.
The AccuQuilt star quilt pattern recommends a pieced binding using some of the same fabrics that you used in stitching the blocks, but if you prefer a solid binding, as a quilter, it is your prerogative to choose what suits your project best.
If you are looking for a lovely throw for your own home, a gift for a loved one, or just a creative way to express your sense of style, head over to the good folks at AccuQuilt for a free download of the GO! Starstruck quilt pattern. Happy quilting!