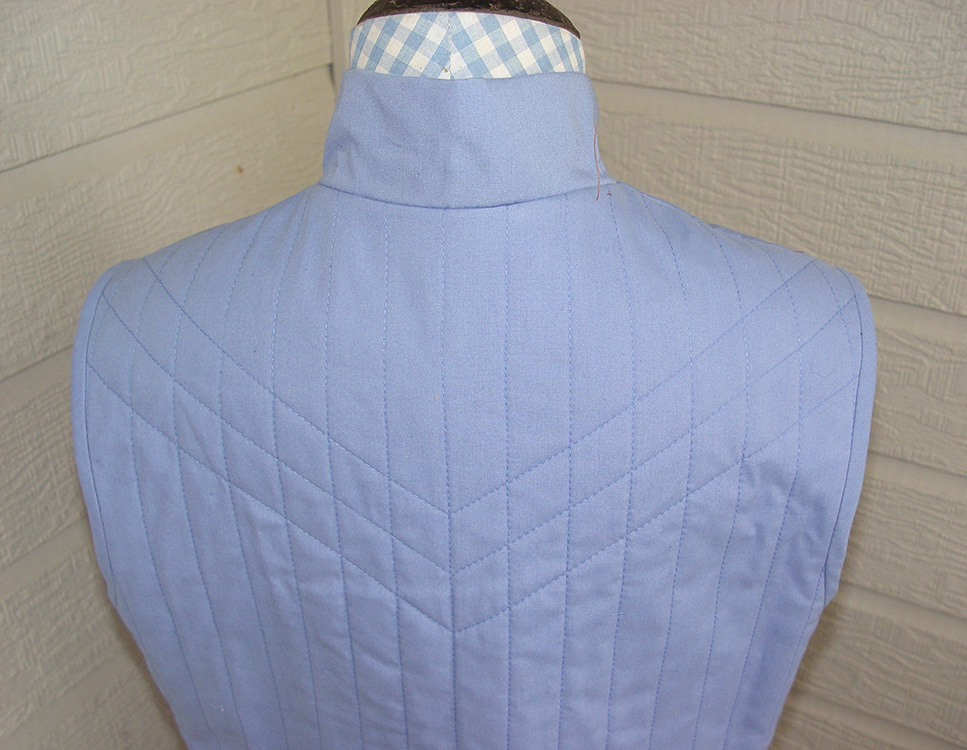 Admittedly, I'm notorious for beginning a project and then realizing, "I really didn't think this through." For example, I saw a beautiful vest in a catalog and thought, "I can copy that vest right down to the quilting patterns." I noted that the quilted lines on the catalog vest were perfectly straight, matched at the shoulders, and were spaced flawlessly. As an expert seamstress, I was confident this was not going to be a problem. Yeah, right! Once again, my over confidence got the best of me.
Like so many other young women, my grandmother taught me how to quilt. My Grandma Katie never quilted alone. Grandma Katie had the ultimate work force: the German-speaking blue haired ladies. As a little girl, I thought having blue hair was a prerequisite to being a good quilter. I vividly remember the smell of sauerkraut in the air. In addition, none of the blue haired ladies wore any type of deodorant. Needless to say, I will never forget the overwhelming orders associated with quilting at Grandma's house. Despite the funny smells and German conversation, I soaked up the knowledge these ladies so graciously shared with me.
Now was the time for total recall of the lessons I learned in the living room of my Grandma Katie's home.

Quilting Straight Lines
Carefully cutting out the pattern pieces and fleece for the vest, I was thinking, "Okay, how am I going to do this? How am I going to get these quilting lines perfectly straight?" Grandma Katie used an eight-foot-long two-by-four as a straight edge to mark the stitching lines on her giant quilts. That two-by-four was a prized possession of my Grandma, however, the two-by-four method was not going to work on the vest.
I didn't want to use a ruler and draw the lines on the vest because the pencil lines would show up after stitching. I needed a brilliant solution. Generally, in these situations I walk out of the sewing room to clear my head. ("Clearing my head" is code for "eating chocolate," and usually works like a charm.)
Out of the blue, (pun intended) a brilliant idea came to me… blue painter's tape! I'd use that wonderful smurf blue tape as a guide. I dug through our stash of painting supplies until I found a roll of the tape. I laid the tape on the fabric and it stuck just enough to stay in place. Then by lining up the pressure foot on the edge of the tape, and following the edge of the tape from the top to the bottom of the vest, stitching perfect lines was a breeze. The vest turned out just as I hoped it would.
I would like to take credit for my amazing idea, but the truth is Grandma Katie and the little blue haired ladies were the source of my inspiration and perspiration. I wonder what the little blue haired ladies would think of my quilting methods? I love the vest, even though sometimes I could swear it has the faint smell of sauerkraut.
Wendy Haight Scribner is a quilter, designer, inventor, and entrepreneur living in Hidden Springs, Idaho. She began sewing when she was just eight years old. Her passion for all things fabric has and will always be the central focus of her life. You can connect with Wendy on Facebook or visit her Etsy shop, Wendy Haight Create, to see her hand-painted apron kits and other one-of-a-kind treasures.
Get in touch! Leave a comment or email editor@nationalquilterscircle.com.

45

Responses to "A Quick Tip for Quilting Straight Lines"