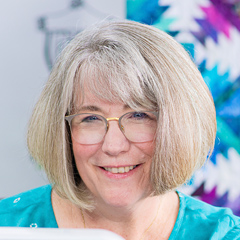 Adding a Hanging Sleeve
Colleen Tauke
A quilt-hanging sleeve is the perfect addition to any size of quilt in order to easily display it on a wall. Colleen Tauke shows how to add a quilt-hanging sleeve to a quilt, either before or after the quilt has been bound.
Quilt-Hanging Sleeve
While adding a quilt-hanging sleeve may be the preferred option of many for displaying a quilt on the wall, it is not the only option. Colleen talks about some of the other quilt-hanging methods and supplies that are available on the market today and talks about why some are better options than others.
When it comes to hanging a quilt on the wall, the best method to use may differ depending on the size and weight of the quilt. If a quilt-hanging sleeve is the method you choose, Colleen walks you step by step through how to add it to a quilt, either before or after a binding has been added.
Colleen begins by talking about the length and width of the strip needed to make the quilt-hanging sleeve, and how to figure out that measurement based on the size of the quilt being hung. She then shows how to press and stitch the short ends of the quilt-hanging sleeve in order to finish them. Once that has been done, Colleen shows how to fold and stitch the sleeve to the wrong side of the quilt by machine. Once the machine stitching has been done, she shows how to finish off the sleeve with a little hand stitching in order to keep the quilt-hanging sleeve laying flat against the back of the quilt.
After Colleen demonstrates this method on a quilt that has not been bound yet, she then shows how to add one to a quilt that has already been bound. This technique is slightly different because you will not be able to finish the long edge of the sleeve with the binding.
Once you've learned how to attach a quilt-hanging sleeve to your quilt, get more tips for hanging and displaying wall quilts and learn unique embellishments to hang your quilts.
Popular All Quilting Videos videos
Explore videos by Colleen Tauke