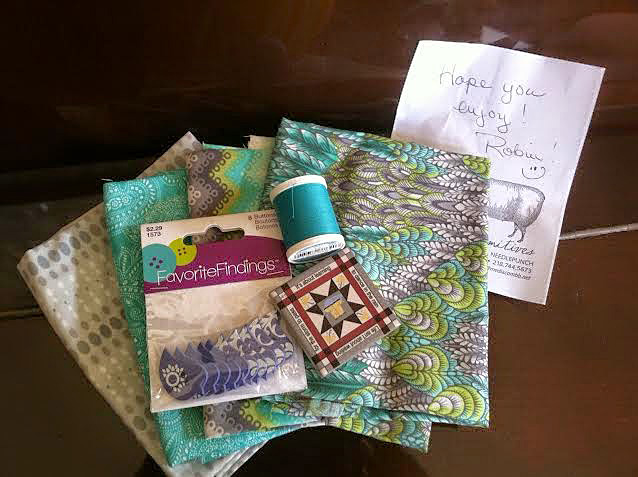 I have recently caught the fabric swapping bug. A friend of mine from my local guild posted some photos on her Facebook page of some of the fabrics her swap buddy sent her. After drooling a bit over these fabulous fabric finds, I immediately went online and started researching fabric swaps and signed up for the next month's swap.

The rules of a typical quilt fabric swap are simple:
You sign up for the months you want to participate.
There are no fees to join, you only pay for the fabric you purchase, any goodies you send as extra fun, and the shipping costs.
You generally have until the end of the month to register for the following month. You might be asked to provide such information such as your favorite colors, favorite designers, or favorite collections which will help your swap partner pick out the perfect fabric for you.
There will generally be a deadline by which to have your package sent out.
The swap I signed up for is organized by a wonderful quilting blog called Kool Beenz. Each month we send out four different fat quarters that are unwashed and quilt quality. This has been great fun for me; every month I look forward to seeing what my buddy has sent me and sending out my own packages. What better way to grow your stash and try out new fabrics you may not have considered before?
Quick Fabric Lesson
Speaking of fabrics, did you know that all fabric is not created equally? There is craft fabric, sewing fabric, and quilting cottons. Craft fabric is stiffer and feels rough, and is often carried at big box stores like Walmart. Sewing fabric is soft and often has polyester in it. There will be quite a bit of stretch in this fabric because it is used for sewing clothing, which needs to move with the body. Jo-Ann's, Hancock, and Hobby Lobby sell all variety of these fabrics. (You really need to know what you are looking for if you shop at these stores.)
Quilt quality fabric is made of cotton and is tightly woven. If you hold it up to the light you will not be able to see between the thread weaves. The best bet for buying appropriate fabric is to frequent your local quilt store. They will already have shelves of precut fat quarters ready for you to peruse. If you shop at bigger fabric stores like Jo-Ann's or Hancock, just check with a sales person to help locate their quilt fabric section.
Finding Your Own Swaps
All it takes is a quick Google search to find out where the great fabric swaps are. Many of your favorites quilting forums or blogs like Kool Beenz organize swaps that you can participate in by simply contacting the organizer and expressing your interest. Your local quilt guilds or associations might also organize swaps that you could sign up for. Or why not organize your own? All you need is a handful of quilting friends and a little bit of organization and you'll be swapping in no time.

Swapping can stretch your creativity too. In addition to swapping fabric, fat quarters, or charm packs, you could swap mini quilts, UFOs, finished blocks, favorite patterns, notions, and the like. The possibilities are endless!

Here are few of my other favorite swapping sites you can check out:

So now that you're armed with a little information, it's time to join in on the fun! Happy swapping!

Get in touch! Leave a comment or email editor@nationalquilterscircle.com.