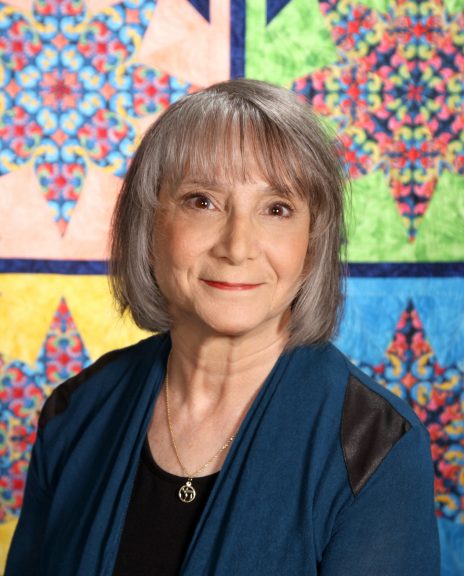 We are so excited to introduce Toby Lischko, a National Quilters Circle contributor! Be sure to connect with Toby on her website, Facebook, and Instagram.
Check out our question and answer with Toby below!
How long have you been quilting, and who taught you how to quilt?
I started quilting in 1985 after my mother (a home economics teacher) and I took a 6 week beginning quilting class from Jackie Robinson, who owned the local quilt shop in St. Louis. I had learned to sew when I was 11 and made my clothes for years so this was just an extension of my sewing skills.
What was your first quilting project?
My first quilting project was Rail Fence quilt. We were just learning the technique of rotary cutting and piecing in my first class.
What are you currently working on?
I am working on a project for Island Batik fabrics. I am an Ambassador for them and I complete monthly project challenges with the fabrics they send us. The projects have different themes each month and challenge us to try new things.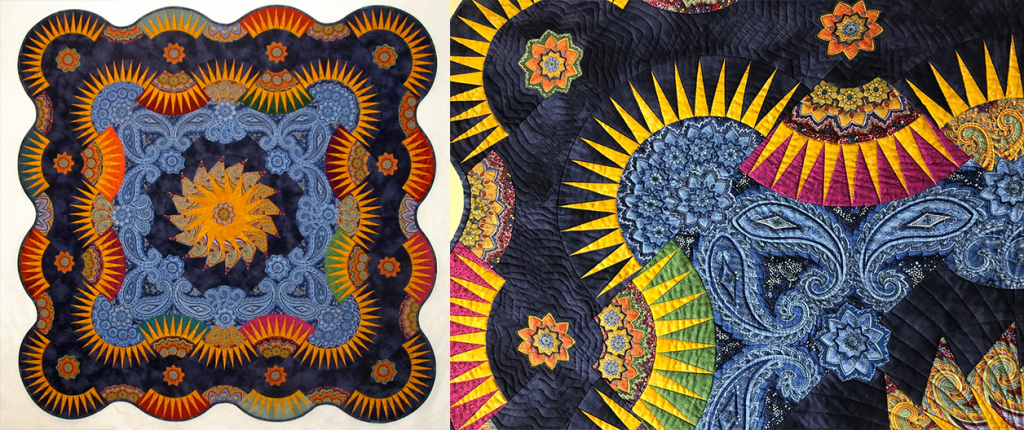 What project have you been most proud of?
I have made two quilts that I am very proud of. My Celestial Crowns quilt won a first place prize for wall quilts in the AQS Paducah, Kentucky show in 2005. The other quilt is called Ocean Deep. I entered it into the National Quilt Museum's New Quilts from Old Favorites contest and received a 5th place prize on it. It was displayed in the museum in 2015.
What do you like to do when you're not quilting?
There isn't too much time to do anything else but quilt but I do love to cook and bake fresh bread.
What kind of sewing machine(s) do you have?
I currently own 5 sewing machines. A Singer Featherweight which was my mother-in-law's, a Grasshopper (1950 Elna), Pfaff 7550, Janome S7, and my newest machine is a Juki Dx-2000QVP. I also have an A-1 longarm machine.

What's your sewing room like?
I have a separate studio for quilting above my garage, which is separate from my house. It is used as a shop, classroom, office, and design studio.
If you could create your dream quilting space, what would it be like?
I already have it!
What quilting tip has changed your life?
In early 2000 I took a quilting class from Sharyn Craig. She showed how to get a consistent seam allowance using Dr. Scholl's Molefoam foot pads. That tip revolutionized my quilting and I was able to enjoy the process more. You can see a video on how I use it here on Youtube.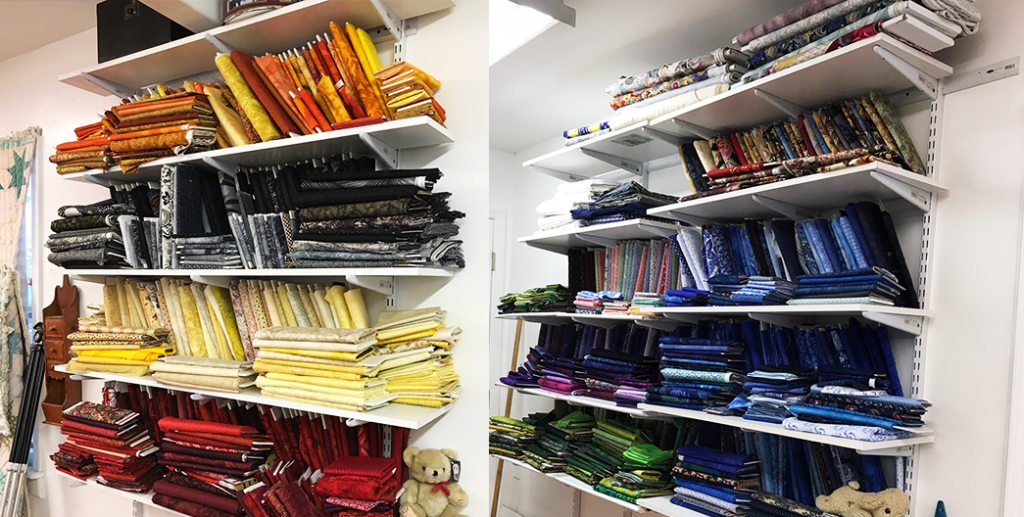 What's your favorite type of fabric to work with?
I love fussy cutting, so my favorite fabrics to work with are symmetrical fabrics. Some of my favorite designers are Paula Nadelstern, Jinny Beyer, Jason Yentor, and Tula Pink.
What would you say to someone who's just getting started in quilting?
Find a good teacher or video and start with something easy. Don't give up if you don't get it just right in the beginning. Just like anything, practice makes perfect. Don't be afraid to try your own thing with different patterns. Make the quilt your own by adding something unique to you.
Learn more about Toby on her website, Facebook, and Instagram.