We are so excited to introduce Susan Guzman, a National Quilters Circle contributor! Be sure to connect with Susan on her blog, Facebook, and Instagram. Check out our question and answer with Susan below!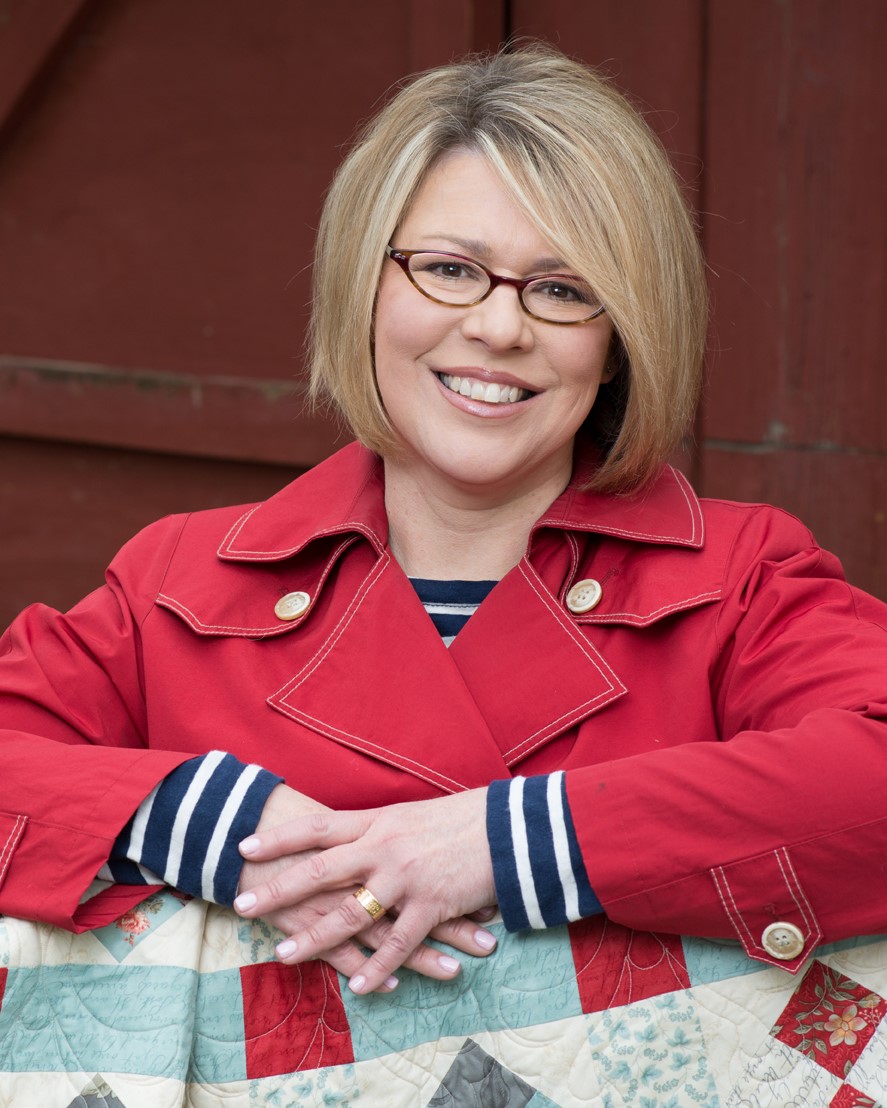 How long have you been quilting, and who taught you how to quilt?
I've been quilting on a regular basis for about 14 years and am self-taught. I've always enjoyed figuring things out on my own and found much satisfaction in challenging myself to learn the various techniques and methods of quilting. When I began quilting, I joined an online quilt guild with members from the U.S. and Canada and almost immediately began joining their regular Round Robins to perfect my skills: from redwork blocks to hand applique and machine piecing, I enjoyed how imaginative and diverse the projects could be.
What was your first quilting project?
My first quilting project was a scrappy Flying Geese quilt I started about 26 years ago. I bought the simple pattern card and fabrics from a small JoAnn Fabrics shop not far from my home. I chose the prettiest calico prints that I could find and had such fun picking them out. The pattern called for templates to make the quilt and when I began piecing them together into the Flying Geese units, they didn't quite look right to me, so I ended up never getting back to it. I still have the project and hope to get back to it one day. I believe the main reason I stopped making it was because the image of the Flying Geese block didn't show the seam allowance along the top (at the center point) and when I finished my first few blocks, I thought I made them wrong because it didn't look like the image.
What do you like to do when you're not quilting?
I enjoy doing a variety of different things. Although I've knitted on and off for years, last fall I started knitting socks; it's been a fun process. I also love to do a variety of things with my husband, such as visit antique shops, attend estate sales, take drives into the mountains, hikes in the forest, and travel. I enjoy gardening, visiting museums, writing, as well as researching my family tree.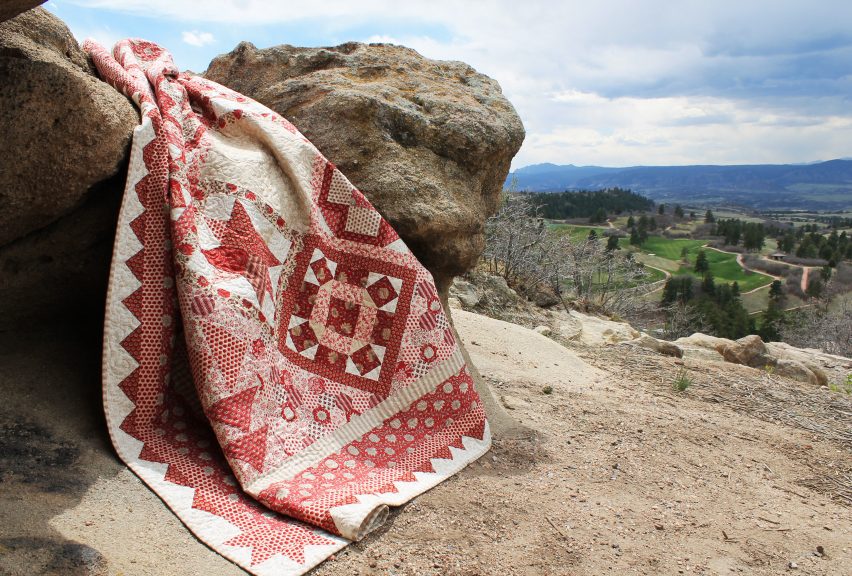 What are you currently working on?
In addition to finishing up a few patterns I'll be offering on my website, I'm excited about my newest pattern that was super-fun to design. The working title is called Kanarra Canyon and, although I feel you'll be able to use a variety of styles of fabrics, the design has a southwestern feel to it. I'm making my sample using Kaffe Fassett's collection from last fall but have also colored it using a current collection by Tula Pink and it looks awesome. I'm also working on a group project with other designers that I'll be sharing through my blog this year.
What project have you been most proud of?
Although there are a handful of projects that stick out for me, I'm most proud of writing my first book; All About Strips: Colorful Quilts from Strips of Many Sizes (Martingale 2015), and receiving such wonderful support of it from my family, friends, and the quilting community.
What's your sewing room like?
Although I love pretty spaces with everything perfectly in its place in coordinating storage bins and have admired some beautifully planned sewing rooms by many of my peers, it's never been a priority for me and I'm okay with that. I feel it's my work room and my private space to get lost in and to allow myself to be an artist. There are times where I can have one or perhaps many projects going at once. I like to allow myself to simply enjoy the process and to not concern myself about having to put things away at the end of each day.
What kind of sewing machine(s) do you have?
The sewing machine I use most is my Juki TL-2010Q. It is a workhorse and I love it. I did quite a bit of research on it before I bought it and it lives up to everything I read. I also have a vintage green Necchi that I treasure (you can see it on my Instagram page), and a PFAFF Quilt Expression 4.2.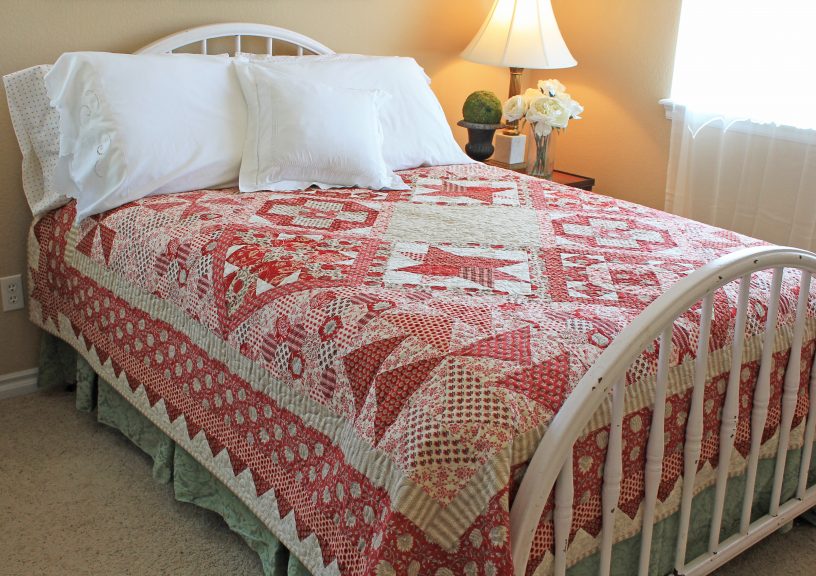 If you could create your dream quilting space, what would it be like?
I'd love to either have a one-room bungalow on our property or a room above a separate garage with a balcony. I'd want the space to have a wall of paned windows on two sides bringing lots of natural light into the space. I'd want built-in lower cabinets with space to hang my artwork above on the remaining two walls, a huge island with shelving and beadboard for cutting and attached desk-like area for my sewing machine . . . and everything painted white. Oh yes, and a corner of the space to either write, draw, or paint in and a daybed with pretty quilts and lots of pillows. I hope that's not too much to ask for.
What's your favorite type of fabric to work with?
100% cotton prints.
What's a new technique or trick you learned recently?
A few months ago, my friend, Helen Stubbings, sent me her Hugs 'n Kisses applique paper to try and I enjoyed working with it. The paper is fibrous (and washable). It has glue on one side that you iron to the wrong side of your fabric and through YouTube videos, she shows you how to achieve a finished edge.
What quilting tip has changed your life?
The stitch-and-flip method of making Flying Geese or Square-in-a-Square blocks is so much better than working with triangles' biased edges, which can easily distort and affect the outcome of your blocks (i.e., producing uneven edges or a waviness to your blocks). Some may argue that there is fabric waste in trimming corners, but I feel it's worth the extra bit of yardage to avoid the aggravation of uneven blocks.
What would you say to someone who's just getting started in quilting?
Read patterns thoroughly before starting and ask lots of questions. If you don't have a trusted friend who quilts or a local quilt shop to visit to ask your questions, don't be shy to contact the pattern designer; we're here to help. Also, pin your pieces together (the more pins the better!) and check your piecing as you sew to be sure your fabric edges haven't shifted; doing this adds to the stability of your piecing and accuracy as you sew. Take the quilting process at a slow pace; slowly stitch until you have your quarter-inch seams mastered, re-read instructions if you're not fully understanding a step, and pay close attention while cutting your fabrics. Finally, be sure to keep your tools in working order; replace dull rotary cutting blades, replace sewing machine needles, and clean the lint from feed dogs and inside the bobbin case and space around the bobbin of your sewing machine between projects.