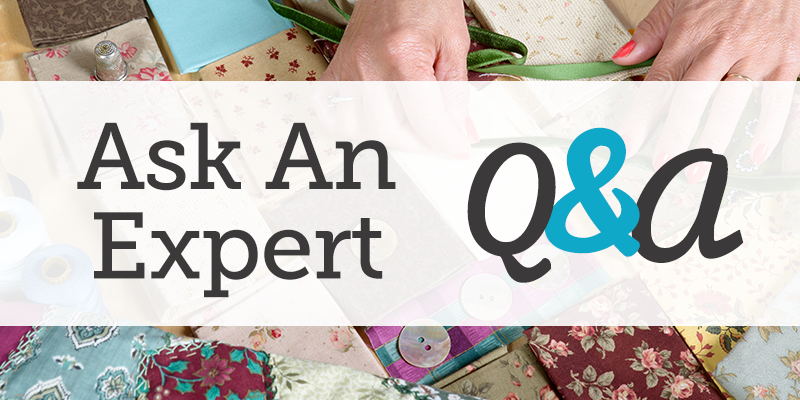 I have a question and hoping maybe someone can help me. I need to know how other quilters sandwich a king-size quilt. I tried the floor—no good. I have two tables—too small. My husband said he would build me something, but wondering how others do it before we go that route. Any help would be greatly appreciated!
Submitted via Facebook
The good news is, you already have the tough part down—you know what sandwiching is and how to approach it. Sandwiching a king-sized quilt does present some additional challenges because of the sheer amount of fabric involved and the need for a relatively large, flat surface. Here are some ideas for places you can do this.
A Bed or Floor
Your best options are already in your home. If you are making a king-sized quilt, you might have a king-sized bed at hand. Strip everything but the fitted sheet and assemble your sandwich there. You'll be able to reach all parts of the quilt and move it around as needed; this option is particularly helpful if it is difficult for you to get down onto the floor (or tough to get back up).

You might need to move a few pieces of furniture, but the floor of a large room is an idea too; it is flat, smooth, and you'll ideally have enough room to spread the entire quilt out. You can also use masking tape to hold the layers in place. The only downside to floor work is that you'll spend a good bit of time sitting and crawling about, which can be tough for those with mobility issues; choose another option if you're worried about discomfort during or after the process.
Your Garage or Workspace
If you do any kind of home improvement (or have a spouse with tools), you may have everything you need in your own garage. Two sawhorses and a sheet of plywood make an ideal setting for sandwiching a king quilt; you'll be able to access all areas without sitting or crawling on the floor. Cover the plywood with a sheet if it is dusty, then pin away.
Think Outside the (Home) Box
You might have better luck sandwiching your quilt in another setting. If you have exhausted all of the possibilities at home, look to other places. Your local library likely has at least one large meeting space with tables for classes; these conference rooms are usually available for free and the table may be much larger than you can access at home. Other options include your church, school, or anywhere you go for classes or social gatherings. Don't forget to ask about the most obvious location: your local quilt or fabric shop might have just the spot for this process, particularly if you shop there regularly.
Tips for Sandwiching a Large Quilt
Safety pins or a tacking gun are likely your best options for this project; basting spray does a wonderful job on smaller pieces, but can actually cause problems when you assemble an oversized quilt. Straight pins or masking tape can help secure your layers as you get the pieces into position.

Begin to baste from the center out, smoothing the quilt as you go. It is important that you move yourself around the quilt—don't slide the quilt around on the surface. If you are on the floor, you'll be able to crawl across the surface; you can walk around a table or bed to reach the areas you need to. Moving the quilt itself could cause the layers to shift.

Sandwiching a quilt by layering the backing, batting, and top is tedious and time consuming, but it also has a major impact on the look of your finished piece. Setting aside a realistic amount of time (at least a few hours), using the right technique, and choosing an ideal location can help you get the job done correctly and allow you to move on to the actual fun of quilting.


Still stuck? You could always take your quilt to a professional long arm quilter. It would likely take them an hour or two, and—depending on who you work with—could run you $50–$100. Your local quilt or fabric shop or any local club or guild can help you find someone.

Happy quilting,

Samantha

Do you have a quilting question you'd like answered by an expert? Email your question to editor@nationalquilterscircle.com or reach out to us on Facebook.

Please note: questions may be edited for clarity and relevance.