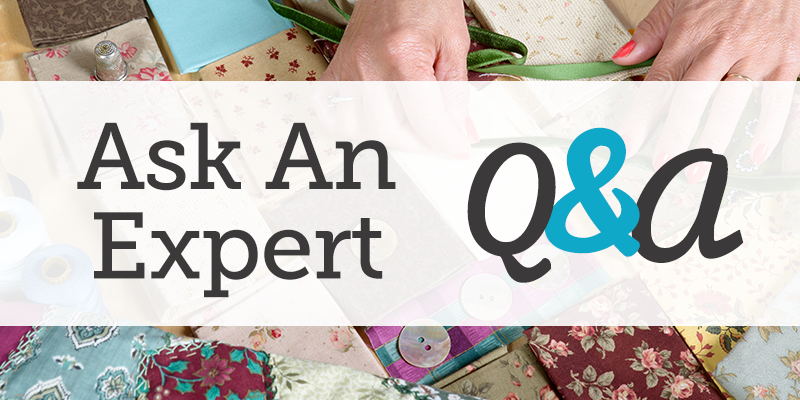 What are your thoughts on fabric quality for beginners? I've heard it said that beginners may not want to use to use good-quality fabric in their early quilts because they may make mistakes and thus waste good fabric. But if you're ripping pieces apart, the cheaper fabrics tend to really fray and stretch, and I wouldn't want a new quilter to get disappointed. What do you think?
Submitted by Paula
You make an excellent point. Quilting is becoming a scarce hobby, and we wouldn't want any new quilters getting discouraged from continuing with a first project if they are using supplies that are difficult to work with. There is definitely a difference in quality between fabrics from Walmart and your local quilt shop, but also a difference in price.
If someone is a new quilter, I always suggest just purchasing the best you can afford. If on a tight budget, they can just buy for their current project and build a stash slowly over time from the leftovers. With that being said, if quilting is your therapy and money is tight, even a lesser-quality fabric will still do the trick there.
I always like to think of all those vintage quilts—back then, they would use clothing or any other fabric they had lying around. And yet we still have these treasures saved in our hope chests. Cared for properly, they too can last a lifetime.
Kelly
Related videos and articles:
Quilting Fabric Quality: Is More Expensive Always Better?
How to Choose Fabric for a Quilt Using Accent Color Fabric
How to Choose the Right Quilt Batting
How to Choose Fabric for a Quilt Using Fabric Texture
How to Choose a Quilting Fabric
Do you have a quilting question you'd like answered by an expert? Email your question to editor@nationalquilterscircle.com or reach out to us on Facebook.
Please note: questions may be edited for clarity and relevance.