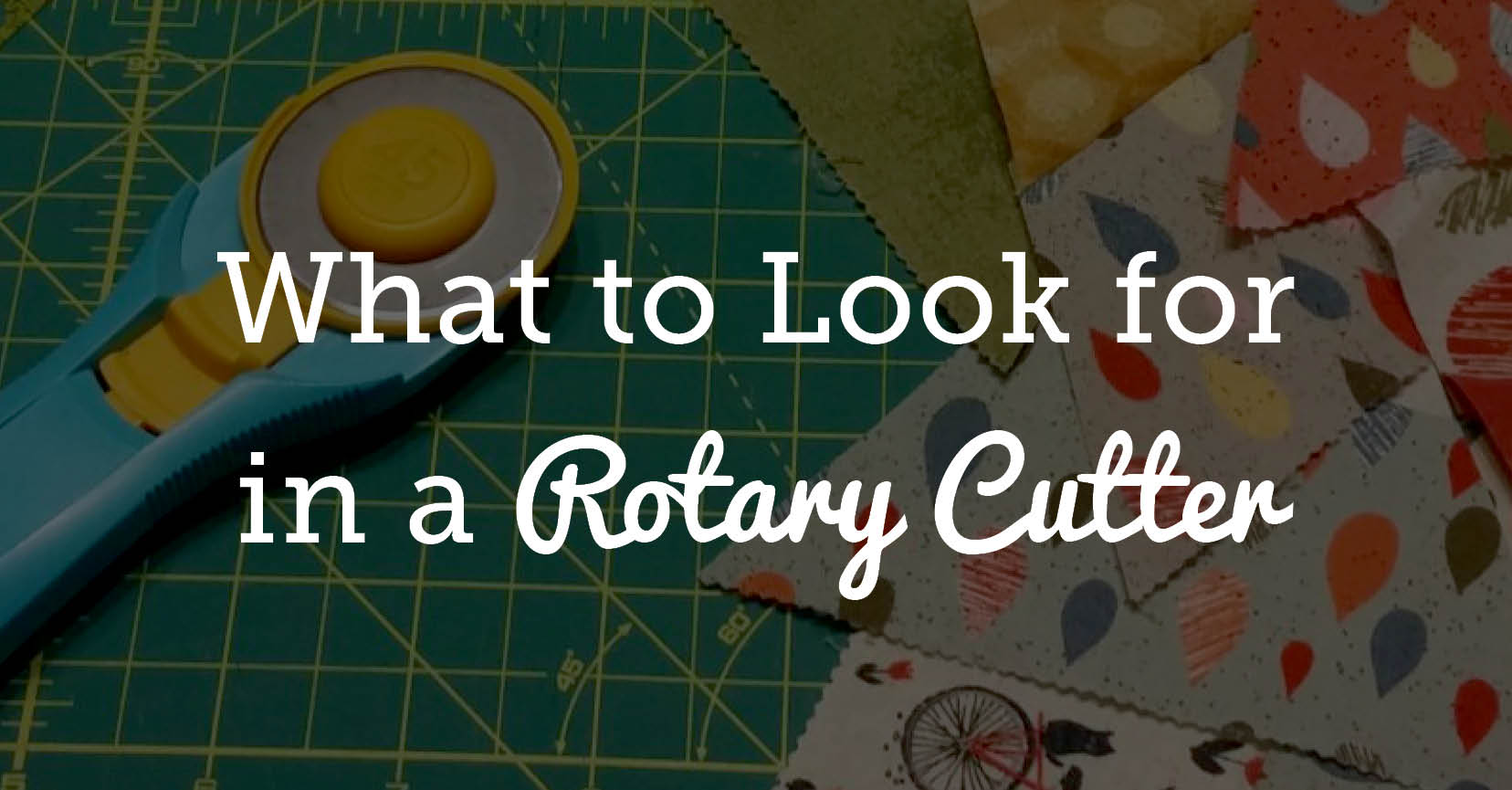 Part of achieving precision and beauty in quilt-making is using the right tool for the right job. A rotary cutter is composed of a wheeled blade and a handle, just like a pizza cutter. Because your hand doesn't nudge the cloth or otherwise get in the way, it's easier to cut in a straight line along a ruler than it is to use scissors. This helps to make the edges of your squares sharp and clean, speeding up the process of quilt-making considerably.
Moreover, a wide variety of rotary cutters are available, with different kinds of blades that use different metals, narrower or wider blade diameters, and different types of handles for ease of use. There are even some rotary cutter kits with fun accessories that make your quilting experience easier and more fun.
In this article we'll go over the various types and variables to consider when buying or using your own rotary cutters.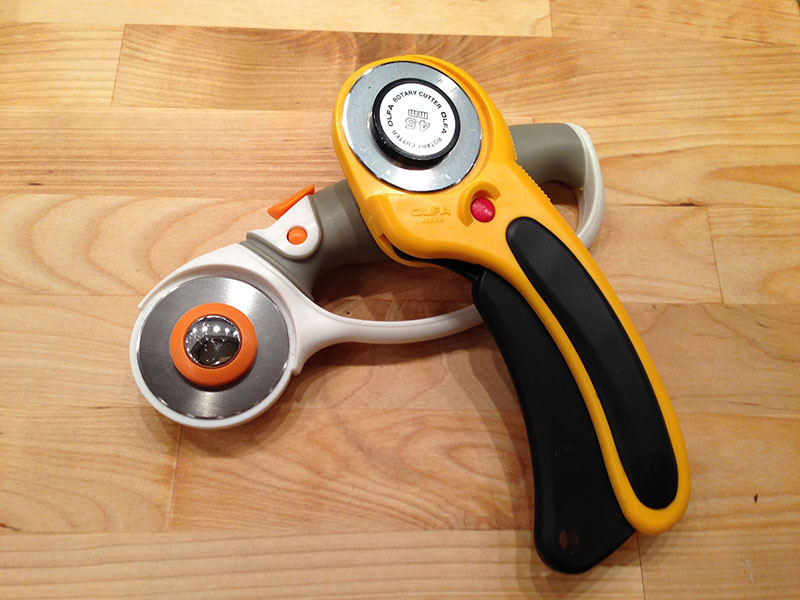 Blade Diameter
Generally, blades run from 18mm to 60mm in diameter. The important thing to remember about rotary blade size is that the wider the blade, the more fabric you can cut at once. However, you may lose some maneuverability and ease of use as the size of the blade increases. If you want to create intricate shapes in your fabric, you probably want a smaller, more maneuverable blade; however, if it's your goal to get that quilt done for the kids by Christmas, purchasing a broader blade and using larger pieces with simpler shapes in your quilt is probably your best bet.
If you are looking for an all-purpose blade for your first quilting project, a 45mm blade is a safe bet. You won't lose a great deal of precision, but you will still be able to cut through most fabrics easily, and thinner fabrics should be able to cut in stacks of 4-6. A 60mm can be very handy to cut through batting and thicker fabrics, however; and if you are purchasing for a young quilter, one of the smaller blades may be easier for them to control.
Blade Safety
A good safety feature to look for on a new rotary cutter is a button that allows you to retract the blade when you aren't using it. And as a general rule, always keep your fingers away from the blade and ruler when using a rotary cutter, and always put your cutter away when you aren't using it.
Check out this video for more safety tips: Rotary Cutter Safety
Blade Material
A good blade saves you time by allowing you to cut through up to six layers of cloth in one pass; it also saves energy, because you don't have to wrestle a good, sharp blade through the fabric. A good blade is a sound investment, because you will use it for multiple projects without needing to replace it; you will also save money on cloth, because your fabric will not catch or snag on any tiny burrs in a substandard blade. Perhaps most importantly, it's just safer to work with a sharp blade than a dull one: you are far less likely to exert so much force on the cutter that you lose control of the blade.
The best rotary cutters are made from tungsten or carbon steel – think of what makes for an excellent knife in the kitchen, and you'll have what makes an excellent material for a rotary cutter. One of the most popular rotary cutter blades is the 45mm Olfa, made of Tungsten steel. Fiskars and Improved Cut are other popular brands for blades; these use carbon steel.
Even the best blades will dull over time… faster if you tend to run over pins! All good rotary cutters will allow you to remove and replace the blade, allowing you to keep the handle that best fits your hand.
Blade Handle
Since you will be gripping your rotary cutter for hours at a time, you want to be sure that the handle is comfortable to hold at the angle you will use the tool. Fiskars' ergonomic handles are a quilting favorite, but you want to be able to visit your local craft shop and actually hold the blades in your hand to determine which fits most comfortably. There are some handles specifically designed with people with arthritis and grip issues in mind, so keep an eye out for these if this is an issue for you. My Comfort Cutter from The Grace Company allows you to add attachments to your handle so that it is personalized to your grip, and is designed to allow you to press from overhead, making cutting easier.
Rotary Blade Accessories
There are some accessories that are essential to purchase with a rotary blade, and others that will make working with a rotary blade easier or more fun. One of the absolute essentials is a cutting mat so that you aren't scoring lines into your table or floor! Cutting mats are typically non-slip so that your fabric will stay where you put it.
For more tips on cutting mats, check out this video: How to Care for Cutting Mats
One of the most interesting accessories that can go with your rotary blade is a ruler track. A ruler track can be laid carefully onto your fabric; then, your rotary cutter fits into a "track" on the ruler like a railcar, and you simply follow the line up and down. This provides a very straight cut, though of course you will eventually run out of "track", limiting the potential length of the cut.
No one wants to stop in the middle of a project, but working with a dull blade isn't safe; therefore, it's wise to have a few extra blades for your rotary cutter handy. You can save money by purchasing blades in packs of five. Wait for a coupon at your favorite craft store and go for it!
To see a few of our favorite rotary cutters and learn about some more essential quilting tools, check out this video: Quilting Tools You Can't Live Without.
Happy quilting!
Have something to add? Leave a comment or email editor@nationalquilterscircle.com.