In the quilting world, yardage is endless, but you can also find precut and prepackaged items that make life a little easier if you know what you're looking for. With such a variety of precut options, you probably have a few questions. What sizes do most stores carry? What are the terms I should use for each precut? Review what you'll encounter on your next trip to the fabric store.
Fat Quarters = approximately 18" x 22"
Fat quarters can also be sold individually as a stack containing an entire fabric line.
This is the most common type of precut found in quilt shops nationwide. The fabric supplier can cut them, but independent quilt shop owners cut many. Yardage is usually cut from selvage to selvage across the 44"/45" width. This means that a quarter yard of fabric would be a narrow strip of fabric measuring 9" x 44"/45".
Another way to cut a quarter yard is to cut a yard of fabric in half at the fold and divide each half again into 18" lengths.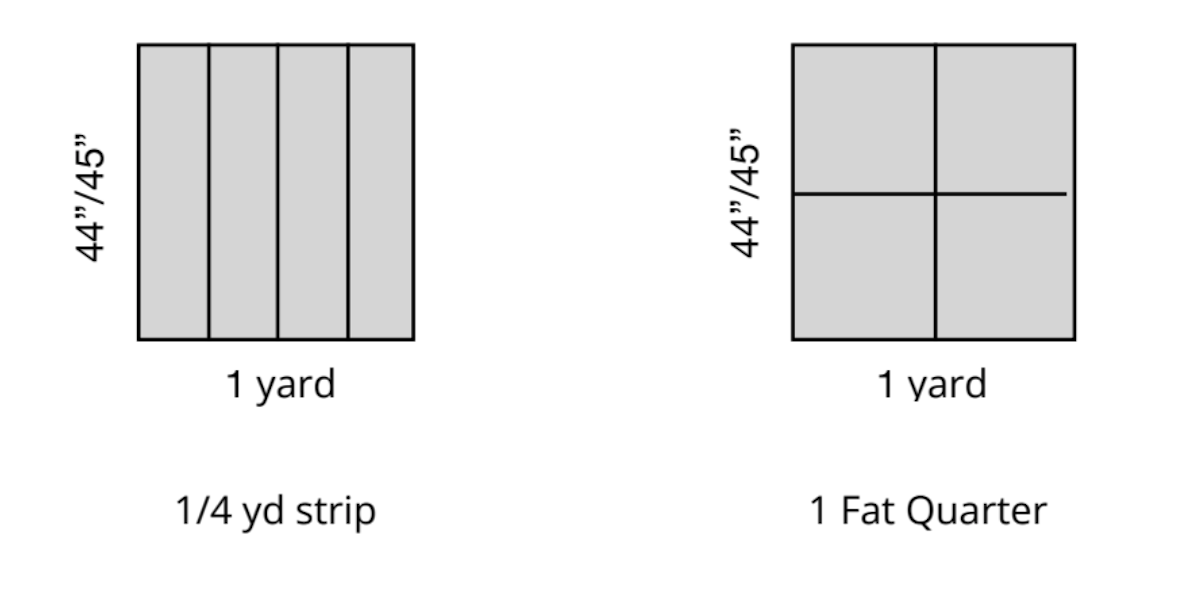 This yields a "fat quarter" of fabric in a more rectangular shape. It allows for cutting pieces larger than 9" (for example, two 10" squares) without the need to buy 1⁄3 of a yard, which would be excessive yardage.
Many pattern companies, magazines, book companies, and designers have published countless patterns using the fat quarter as inspiration.
Fat Eighths = approximately 11" x 18"
Typically sold individually.
Fat eighths may not be as commonly found as their cousin, the fat quarter. Shops will cut these as the fabric approaches the end of available yardage on the bolt. They are half a fat quarter and can be valuable when sewing small projects or scrappy designs. Just keep in mind you may not be able to purchase additional material if it comes from the end of a bolt.

Precut Strips/Jelly Rolls/Bali Pops = 2 ½" x 44"
Typically sold in packages of 42, but packs may vary or have repeats to total 42.
The 2 ½" precut strip can be found with a variety of names. Those specific names are usually tied to the individual company that produces them, but many will refer to them as "jelly rolls."
I believe this was term created by Moda to describe the first sets of 2 ½" precut strips that contained one strip from each print within a fabric line. If the line was smaller, duplicate strips were added to make the roll contain 42.
Hoffman, another fabric company, named their strips "Bali Pops" due to their batik designs that originated in Bali. You may find them under other names, but always check for the number of strips to understand the amount of fabric you purchase.
Again, many available patterns utilize this precut. Also, please remember that many designs require background or unifying yardage to finish the project. These strips provide a great variety and pre-coordinated color for your project. Check with your local fabric supply store, as many fabric companies make these rolls, but not all have them available.
Precut 2 ½" Squares/Moda Candy/Mini Charms = 2 ½" x 2 ½"
Typically sold in packages of 42, but packs may vary or have repeats to total 42.
The smallest can be found in this grouping. There are only so many companies that make these squares available. Moda markets them as "Moda Candy," and when you encounter them, you'll quickly see why. They're just so cute; it's hard to resist buying them! The 2 ½" squares are good for small projects when you want a variety of prints. Table runners or small bags are perfect projects for these 2 ½" squares.
Precut 5" Squares/Charms/Charm Packs = 5" x 5"
Typically sold in packages of 42, but packs may vary or have repeats to total 42.
Historically, 5" squares may have the oldest story. Known to many as "charms," this precut was used in block swaps in the 1870s and then revived in the 1930s. Quilters would exchange squares to add variety and interest to their quilts. It was also a way to remember quilt friends and neighbors as you sew their squares into your patchwork.
Charm packs are wonderful for incorporating a variety of coordinated prints in bags, placemats, baby quilts, and other small- to medium-sized projects. Various patterns have been designed specifically using the 5" charm.
Precut 10" Square/Layer Cakes/Design Squares = 10" x 10"
Typically sold in packages of 42, but packs may vary or have repeats to total 42.
The last of the commonly found precut is the 10" square. Moda refers to their squares as "Layer Cakes," but others may refer to them as "design squares."
This precut gives the quilter even more design possibilities since the squares are larger. If using these in a project, remember that your project will be scrappy and that repeating color combinations may be limited. Many patterns for larger quilts may require multiple sets of 10" squares and a background or unifying fabric.
Some quilters may feel that purchasing yardage is more economical, but not all quilt shops will carry the entirety of a line. The precut will include all the fabrics in a line without having to search out the missing ones. Also, remember your pattern's need for lights, mediums, and darks. This can alter the amount of contrast in the finished patchwork.
There are many things to consider when shopping for precuts, but once you know how they can work for you, the creative potential is limitless! Precuts are great for quilts of all sizes and a wide array of other projects. What have you created using precuts? Let us know in the comments!